Hi to all
I have had a request to check a late Indian Chief Powerplus crankshaft to see if it was trued,from the guy who bring it to me(ex Indian dealer), most have a problem related to the flywheel, due to too soft of flywheel casting and improperly ground taper in wheels, so no problem for me to check to see if it was correct, sure it was not, so my indy order a new set made in the USA.
They have had such a demand that it was worth doing them to replace the Indian wheel (made in Korea),the later bunch of flywheel to fit late 2003-2004 were made in Argentina and they seem a lot better, this one is early 2003.
.005 inch and .007 on each shaft…way too much
So I did check the new flywheels and sure they were perfect for runout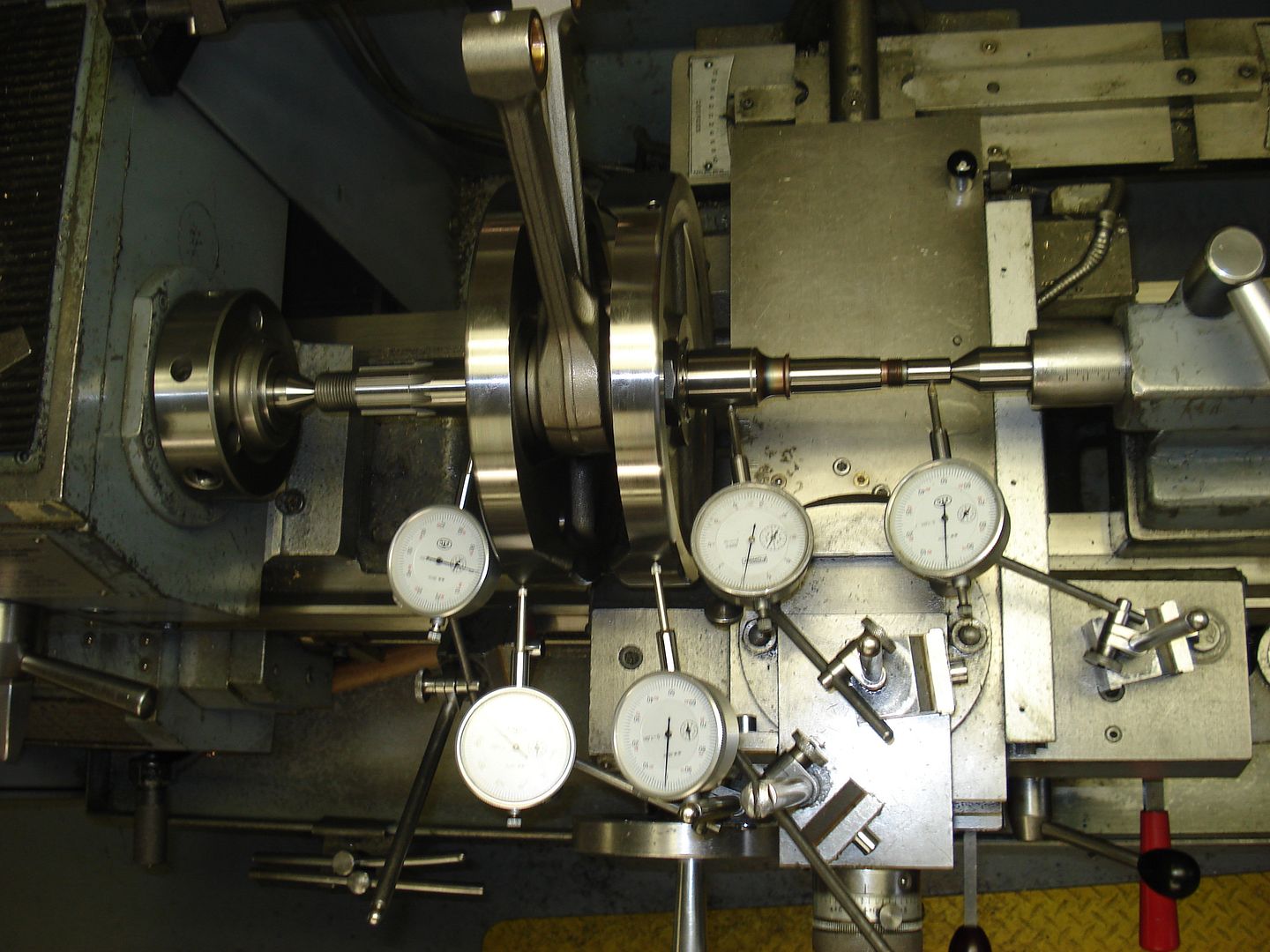 So it was time for me to line lap…so I was doing the line lapping on the pinion bearing with the 2 case half bolted together, something caught my attention, the bearing race was slightly moving, my first taught was an optical illusion, so I made a chalk mark in straight line and it was definitely moving but not by much, barely able to see it, and  it was not the bearing race but actually the steel sleeve that was originally cast-in at the factory, but still this is the main support for the flywheel and it need to be perfect and really solid, I do not want to let this one go without telling the guy about it since I did not want to complete the assembly of the bottom end and left the insert like this.
Here is the case I am talking about 2003 Indian Chief Powerplus engine, 100 cubic inch V-Twin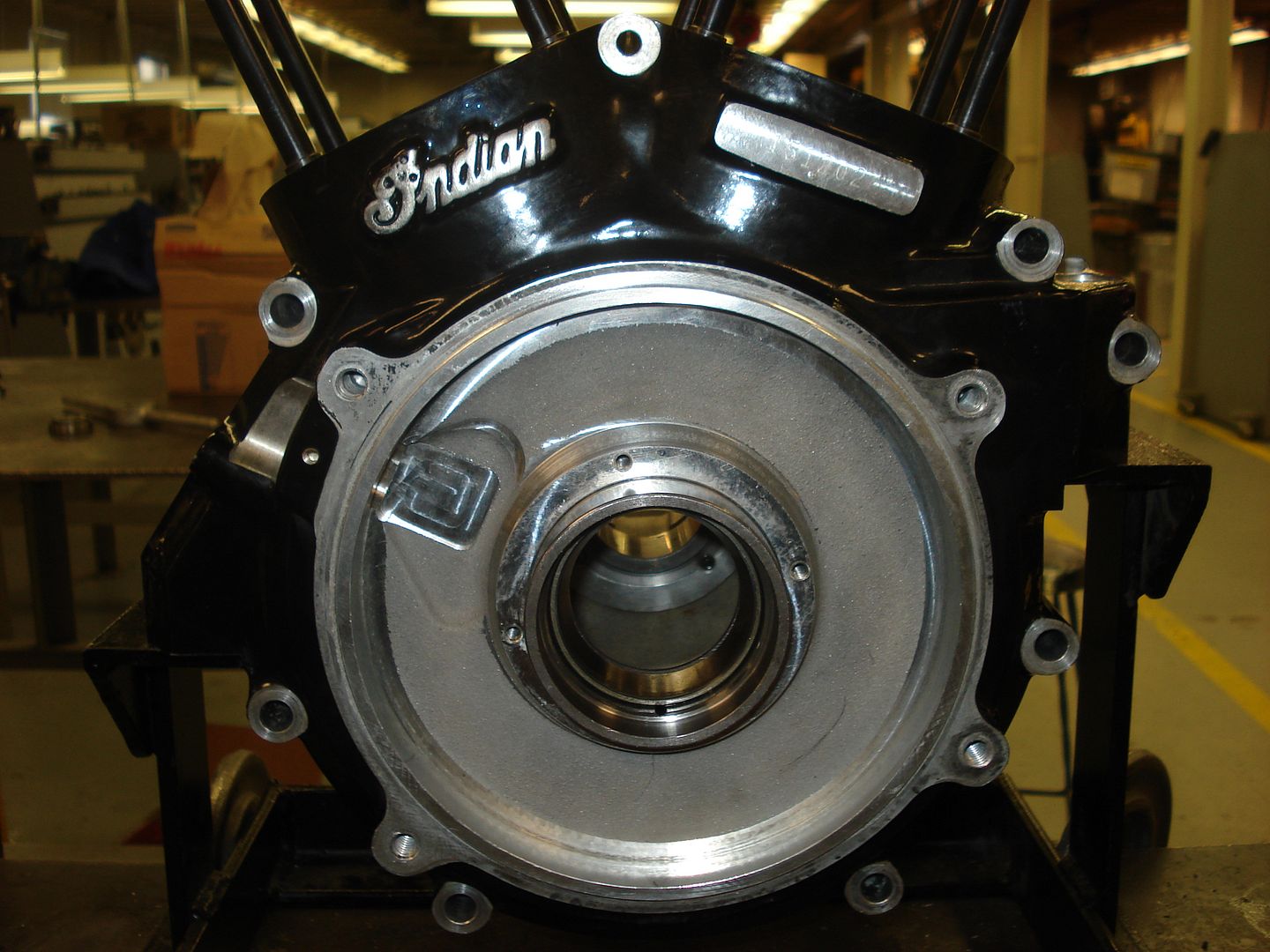 So after a long talk,he ask me if I could take care of it,he told me that there was some company in the States specialized in those later Indian engine ,but he did not want to take the chance to ship the case and to lost them,from my side I did not have much time to spare,but I say why not, since it was a challenge for me more than anything. More on Late Indian Chief Powerplus motorcycle «cast-in» pinion race bearing problem ……and correction
Hi to everyone
I had received a request from a friend who's bike had suffer a blown head gasket late last year, his 93 cubic big bore Shovelhead engine has been in a garage since, those head have a bigger female spigot to accomodate the bigger cylinder ,those are harder to find alone and no one want to separate a set of heads,he doens'nt have the money and don't want to spend big bucks on a new set of aftermarket heads,so he ask me J
More on Classic Harley Shovelhead blown head gasket aluminum repair
Harley-Davidson Hydra Glide FLH bottom tube thread repair
The bottom tube that secure the wheel axles with 2 studs could have encounter some problem, either they were over torque or if they hit somethings,so when the material fail around the studs you need to take care of that,one option is to buy cheap aftermarket ones,or the other option is to rebuild them,by completely weld the end of the tube and recondition to original specs.
Here is the end ready to be machine after the initial weld,everything was ground to start with to make sure no porosity would interfere at the end.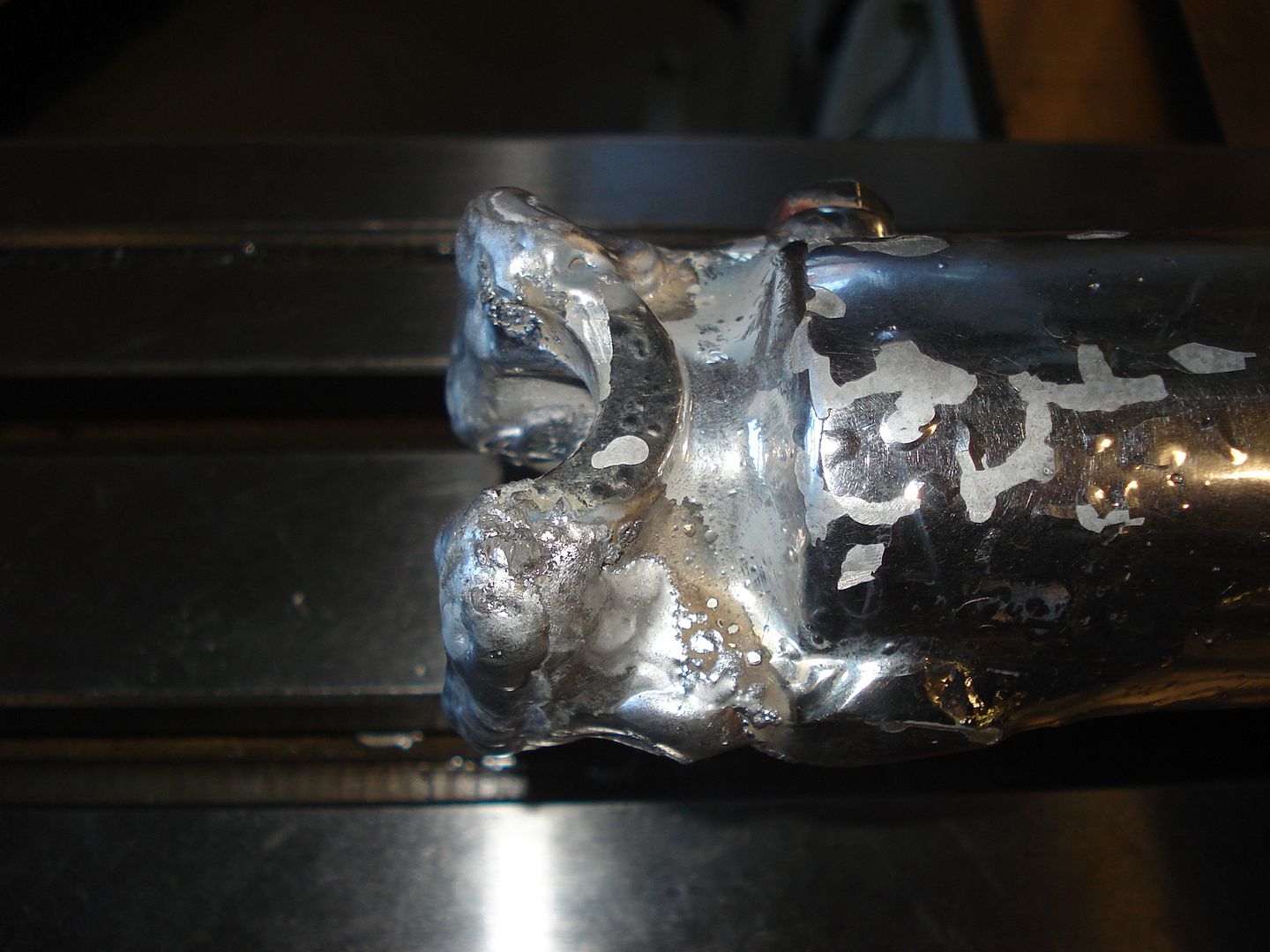 More on Classic Harley Hydra Glide FLH Bottom Fork Tube Thread Repair