Modifying a Camshaft for Panhead or early Shovel using a late shovel camshaft
I have been searching for a specific cam for my new project,been running a V-thunder by comp cams in my FLH 82 and simply love it,so I contact Comp Cams to see if they were making models for either Panhead or early Shovel which is not common by many manufacturers.
I never received an answer for Comp Cams,even ask Andrews if they want to make a run for Panhead /early Shovelhead,they said they would but as soon as I ask for same specs as V-Thunder I have never hear back from them.
So I decided to experiment a little ,search a little and found out that they are basically the same as later cams except for the gear and also the cam cover end which is bigger and also longer on later models to timed the advance weight which is not the case with early models.
I tried machining an old Evo camshaft I had on hands ,to see if the parts that run on bushing was hardened deep ,here is a few pics,it was hardened for about .080 in depth,probably induction case hardened,deep enough not to distort the cam too much,but since original outside diameter is 1.000 inch on later models compare to .8125 inch for early models , a difference of .1875(3/16 inch),so no more hardness at the finish size.
I did order some inner bearing sleeve that were .6875 inside diameter with a .9375 outside diameter and around 1 inch long,which is about a 1 /2 inch too long,so I ordered some bearing hardened sleeves form UK,cause I could not find any in Canada.
Basically all you need is there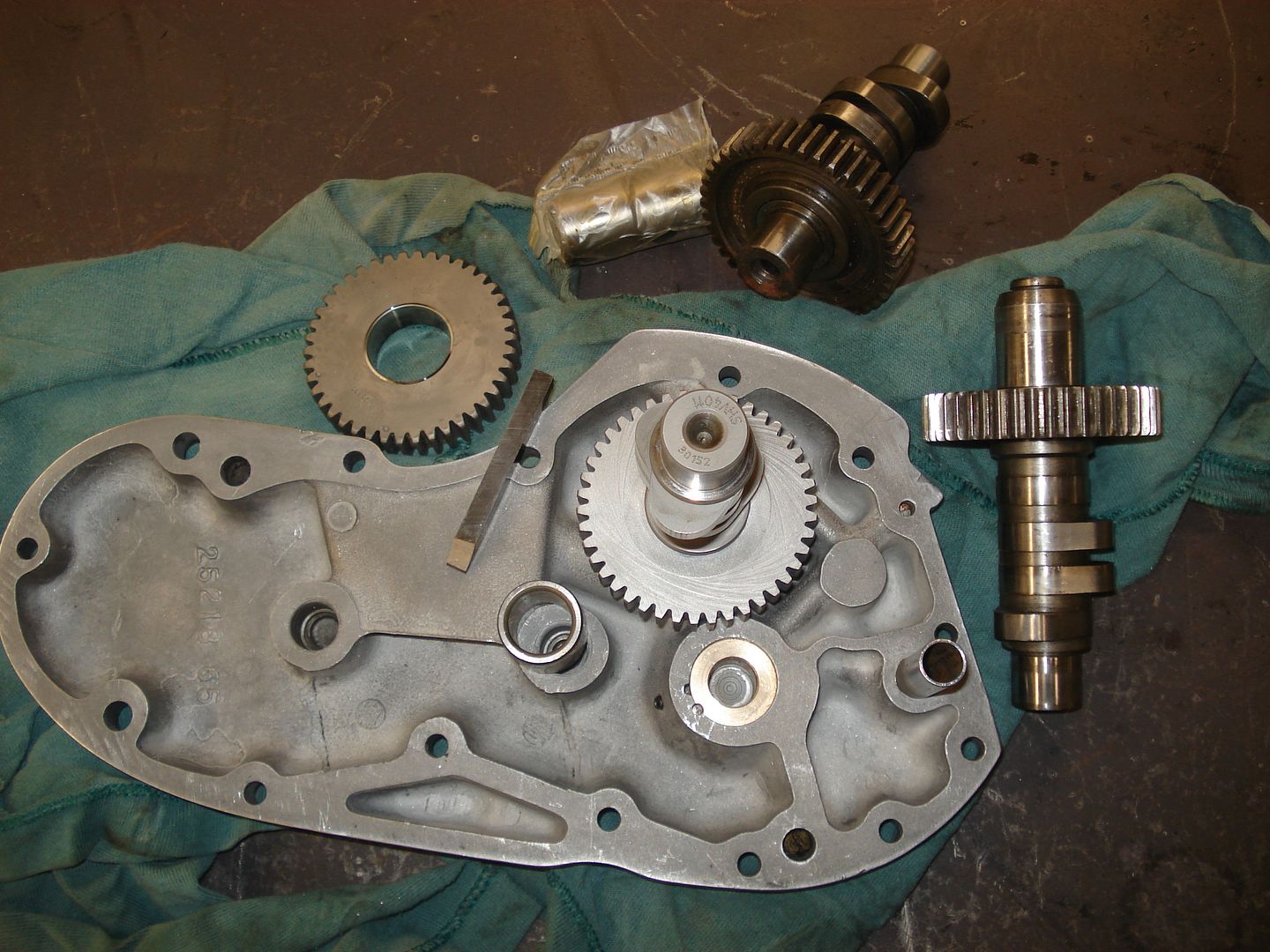 More on Modifying a Camshaft for Panhead or early Shovel using a late shovel camshaft
Most of you know that I am quite extremist when it comes to engine ,tranny and a lot more,this time I will show something that is not done very often ,checking and correct if needed,the cranckcase where the bottom of cylinder bolt on, if it is not perpendicular to main axis and you leave like it is, you will end up with lots of problems.
I will talk a bit more about an 66 FL engine I am rebuilding now( my new project)
and since I have it completely apart ,and want to have it to be reliable and trouble free for a very long time I decide I will not leave anything overlook,at least I will try.
When the motor factory did there cranckcases machining way back then ,quality control was not important,some of the engines were encounting smoking problems,some were shaking badly,some were loosing a wrist pin to the cylinder side wall,just to name a few problems,but all could have been running really well if everything would have been done correctly.
Cranckcase in hands I decide to check the «decking», the part where the cylinder base seat on top of cranckcase, to make sure everything was set perfectly perpendicular to crank shaft axis,some would ask me why,reason I do this is, I did have this problem with my own 67 way back then,smoking problem as well as plug fouling and misfiring,so why not make sure everything was machine correctly from Motor Factory,not only the decking was not perpendicular but also the cylinders in the same axis so that was amplifying the problem and I would have also loose a wrist pins in a short while.
Here is another thread about cylinders problem,and to tell the truth I have never found one cylinders that is perfect,so they all need to be correct to be perfect.
from my blog on caimag.com
http://www.caimag.com/wordpress/2012/03/03/harley-cylinder-problems-probably-something-you-never-think-or-heard-of/
…to continue with the this thread….Here is the start on the vertical milling ,checking to see if head was set right with a double dial from Starrett,this will insure head is perfectly perpendicular to table,check on both side.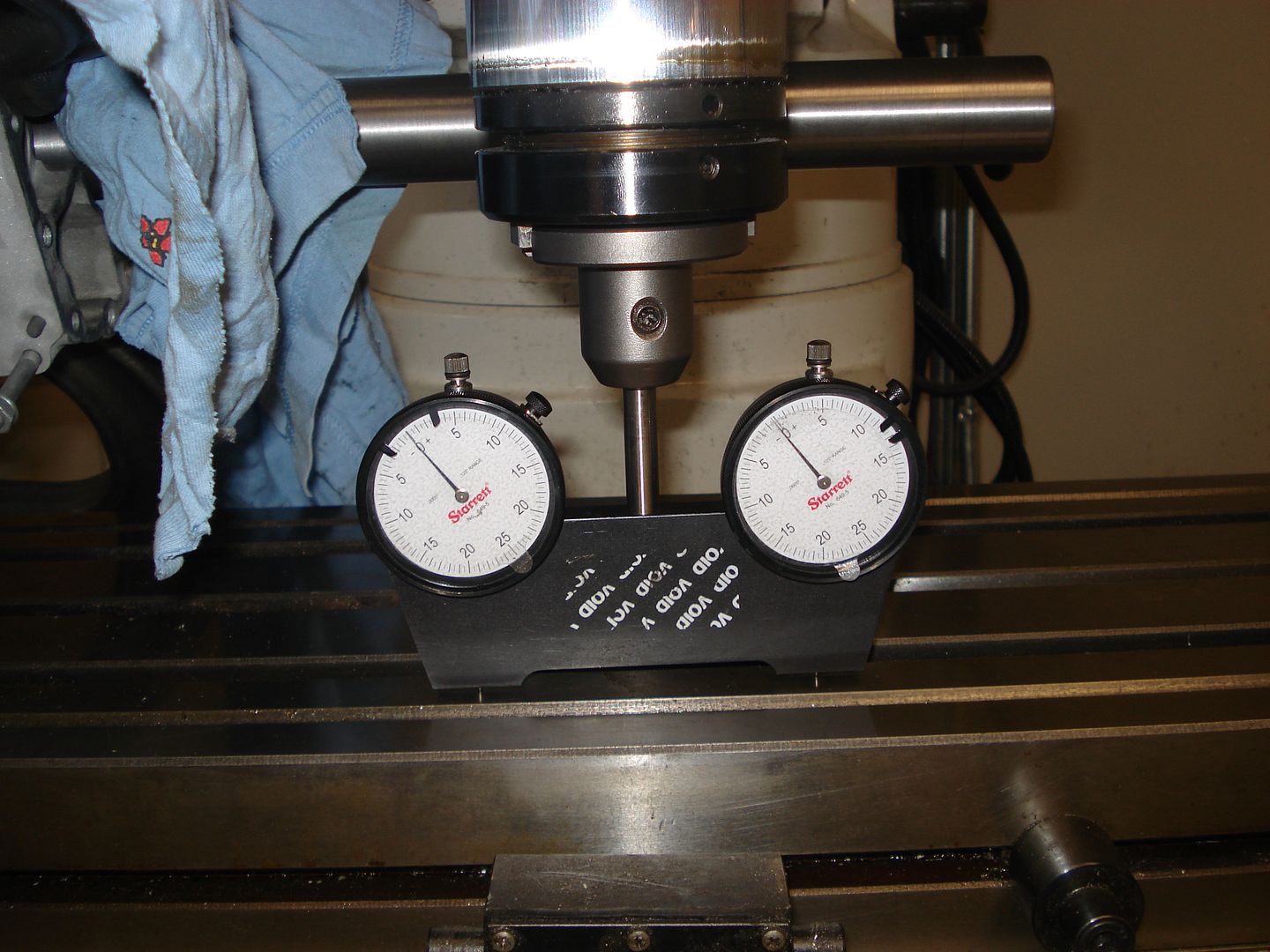 When you want to check the base portion of any cranckcase you need to make sure that everything is set up right and doesn't move,so to do this I use an adjustable angle plate,that permit me to move up and down if case is not perfect,but before starting ,make sure angle plate is dial on the X and Y axis.
I use a special custom machine shafting, with the line lap bushing at the sprocket end plus an other custom made brass bushing on the pinion side,everything is machine with close fit tolerance in one set up on the lathe.then I use the dial on top of it,moving on the X axis,turn shaft several time so achieve and average(even with close tolerance with long shaft you could have a few thou off with this lenght of shaft )

More on Checking and decking a Classic Harley generator Shovel engine crankcase
I feel that was time for me to do a complete tranny rebuild thread ,I have done many sections over the years, but now why not doing it totally this time,hope you will enjoy
Here it is …as I received the tranny ,1965 OEM tranny that came with my early FL66 project
Open the top, here is what the inside looks like,not too much rust at least, been on a non heated garage for at least the last 13 years
More on Classic Harley ratchet top transmission, complete tear down and total rebuild