For my '33, I decided to go with the standard 3-speed transmission.  There was also a 3-speed with reverse available that same year for sidecar use, but I think the standard 3-speed will suit my needs just fine and from talking with those that do run sidecars, the rig is light enough that you can manage it without reverse.  I started out with a '32-'35 case, which is easily distinguished from the previous and later models by a large mounting boss located behind the main sprocket which is used for attaching the primary.  The case was in excellent condition and only needed surface cleaning to prep it for building.
More on Building a Harley-Davidson VL: Transmission Rebuild
Over the winter, I've made a lot of progress on my 1933 Harley-Davidson build.  Now that the engine has been sent to the machine shop for rebuilding, I wanted to take some time and write about what it took to get the engine ready to be rebuilt.  If I had to sum it all up with one picture, it would definitely be this one of me standing at the blasting cabinet.  Almost every part had to be cleaned with fine aluminum oxide media to remove 80+ years of dirt and grime.
Part 6 of a series on rebuilding an old Bosch motorcycle magneto. This is reposted here with the permission of the author, who has asked me to keep anonymous.
The story of what the professional restorer did to this magneto just keeps getting better…
Although the end cap came off without difficulty, often they are a very tight fit. Because of this, I designed a set of separators consisting of four pieces held in place with hose clamps that lets me gently press armatures apart by turning two screws. The next photograph uses one of my spare ZEV armatures to show how it works.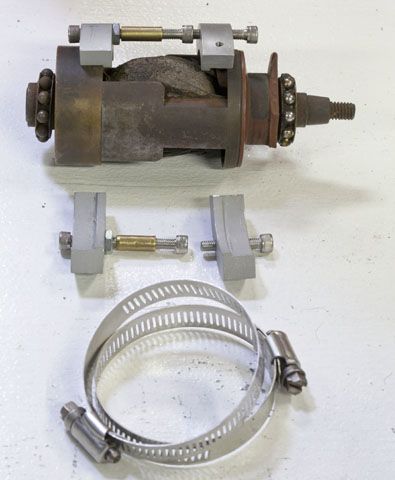 The next photograph shows the end containing the condenser of the actual armature I am rebuilding, with the four screws holding this end cap in More on Classic Motorcycle Tech – Magneto Rebuild, Part 6