Classic Indian Motorcycle History
I (Buzz Kanter) have owned this bike for something like 25 years. I used to ride the wheels off this old Indian Chief, but then parked it about 10 years ago when I ran out of garage space.
A few weeks ago I pulled it out of storage and got it running. In fact I rode it to work today at the American Iron Magazine offices (see above).  I plan to ride it to Sturgis in a few weeks to celebraste Indian motorcycle's role in the founding of the Black Hills Motor Classic – otherwise know as the Sturgis Rally.
THE RIDE TO STURGIS: We will ride from the National Motorcycle Museum in Anamosa, IA three days on the road to Sturgis. This is a free ride open to riders of all makes, models and years, but we ask that riders of Indian motorcycles (old or new) ride up front.
We meet at the National Motorcycle Museum for a welcome dinner and tour of the museum on Thursday, July 30th.
We roll out from Anamosa, IA the next morning (July 31) and cover roughly 300 miles on back roads to Spencer, IA for overnight.
The next morning (August 1) we ride anouther roughly 300 back roads miles to Winner SD for an overnight.
Then, the last day (Sunday, August 2) we ride the rest of the way to Sturgis, SD and plan to end at the Indian dealer in Sturgis.
THE INDIAN MOTORCYCLE & CLASSIC AMERICAN IRON BLACK HILLS RALLY: Then there is more fun at The Buffalo Chip where we will hold our FREE Indian Motorcycle & Classic American Iron Black Hills Rally on Tuesday, August 4. Registration opens around 9 am and the event starts at noon. Field events (kickstart, slow race, balloon toss, plank ride, etc) and bike show. The all-brands American bike show is sponsored by Dennis Kirk. Open to all years of Indians (old and new) and pre-1984 American motorcycles.
Sponsors include Indian Motorcycle, American Iron Magazine, Motorcycle Rides & Culture, Greaserag.com, Heather's Leathers, National Cycles, Sturgis Vintage Cycles, Jerry Greer's Engineering.
Please consider subscribing to American Iron Magazine in print or digital delivery.
Click on DIGITAL or PRINT for more information and our discount prices.
Long out of pirnt, we still have many of the old issues of Indian Motorcycle Illustrated available for sale on www.greaserag.com.
If you are passionate about old Indian motorcycles, or know anyone who is, here is your chance to buy these collector magazines while supplies last.
Link is http://www.greaserag.com/product-category/motorcycle-magazines/indian-illustrated-magazines/
Hi to all
I have had a request to check a late Indian Chief Powerplus crankshaft to see if it was trued,from the guy who bring it to me(ex Indian dealer), most have a problem related to the flywheel, due to too soft of flywheel casting and improperly ground taper in wheels, so no problem for me to check to see if it was correct, sure it was not, so my indy order a new set made in the USA.
They have had such a demand that it was worth doing them to replace the Indian wheel (made in Korea),the later bunch of flywheel to fit late 2003-2004 were made in Argentina and they seem a lot better, this one is early 2003.
.005 inch and .007 on each shaft…way too much
So I did check the new flywheels and sure they were perfect for runout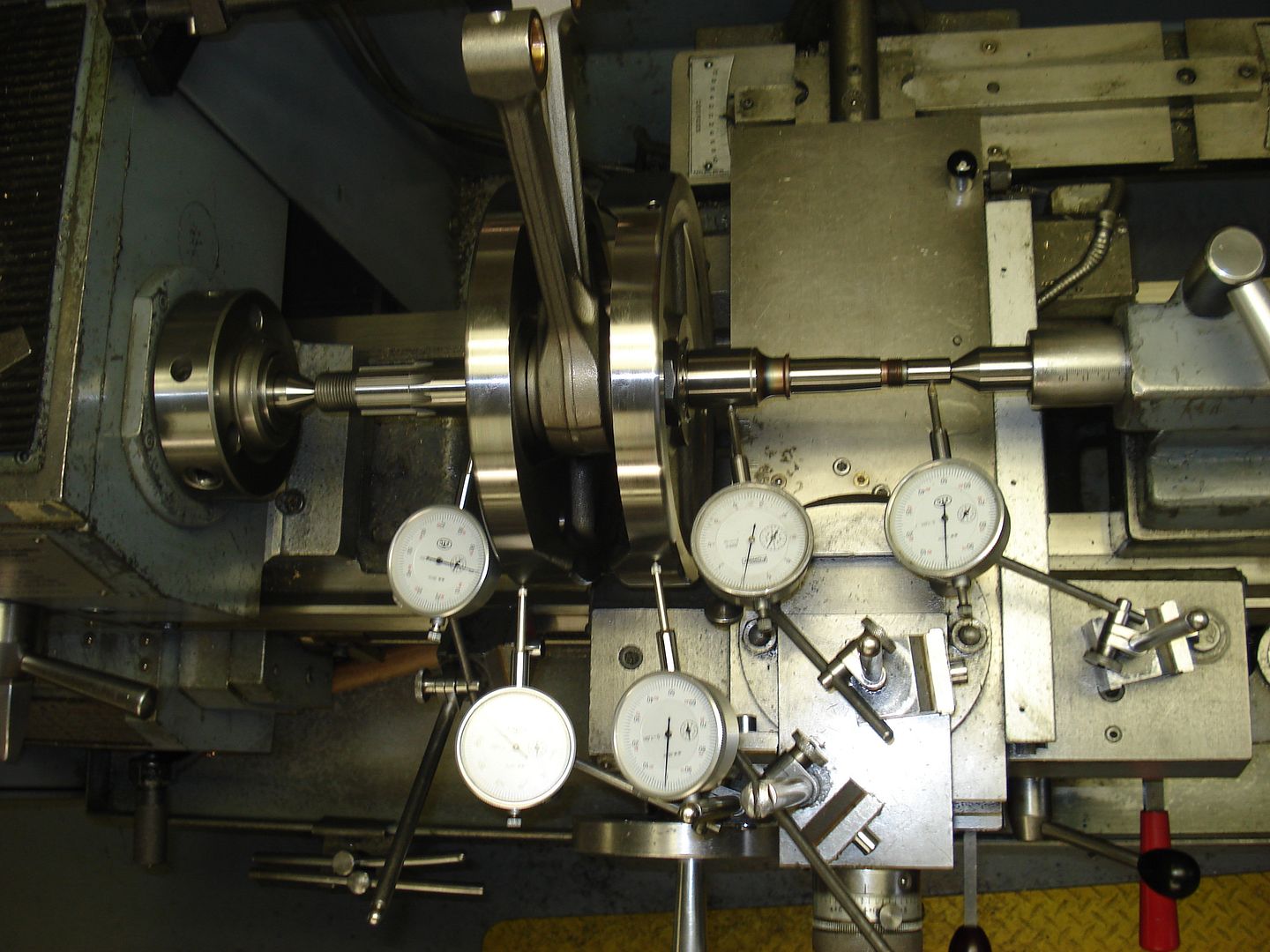 So it was time for me to line lap…so I was doing the line lapping on the pinion bearing with the 2 case half bolted together, something caught my attention, the bearing race was slightly moving, my first taught was an optical illusion, so I made a chalk mark in straight line and it was definitely moving but not by much, barely able to see it, and  it was not the bearing race but actually the steel sleeve that was originally cast-in at the factory, but still this is the main support for the flywheel and it need to be perfect and really solid, I do not want to let this one go without telling the guy about it since I did not want to complete the assembly of the bottom end and left the insert like this.
Here is the case I am talking about 2003 Indian Chief Powerplus engine, 100 cubic inch V-Twin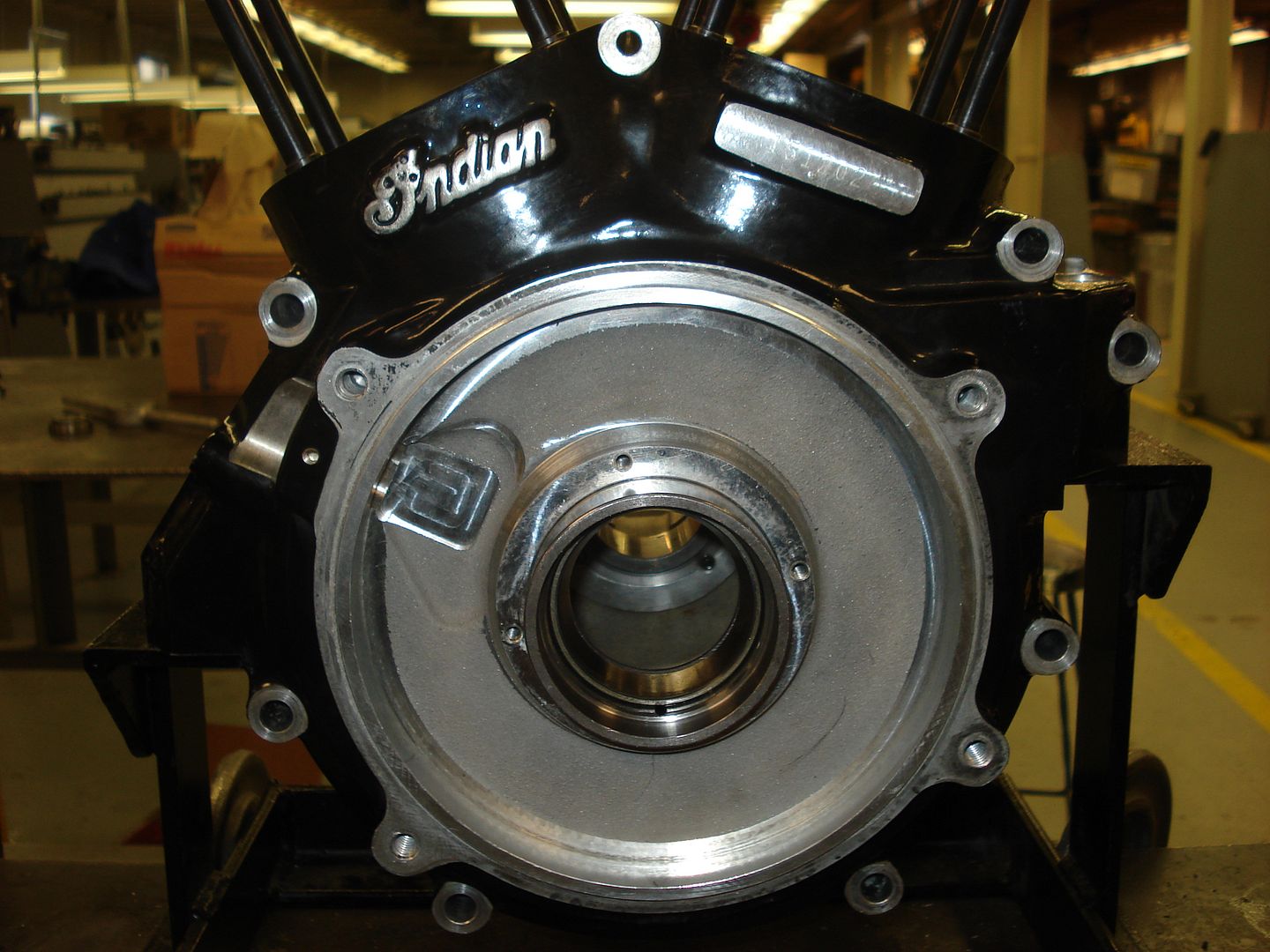 So after a long talk,he ask me if I could take care of it,he told me that there was some company in the States specialized in those later Indian engine ,but he did not want to take the chance to ship the case and to lost them,from my side I did not have much time to spare,but I say why not, since it was a challenge for me more than anything. More on Late Indian Chief Powerplus motorcycle «cast-in» pinion race bearing problem ……and correction