February 12, 2016
Modifying a Camshaft for Panhead or early Shovel using a late shovel camshaft
Modifying a Camshaft for Panhead or early Shovel using a late shovel camshaft
I have been searching for a specific cam for my new project,been running a V-thunder by comp cams in my FLH 82 and simply love it,so I contact Comp Cams to see if they were making models for either Panhead or early Shovel which is not common by many manufacturers.
I never received an answer for Comp Cams,even ask Andrews if they want to make a run for Panhead /early Shovelhead,they said they would but as soon as I ask for same specs as V-Thunder I have never hear back from them.
So I decided to experiment a little ,search a little and found out that they are basically the same as later cams except for the gear and also the cam cover end which is bigger and also longer on later models to timed the advance weight which is not the case with early models.
I tried machining an old Evo camshaft I had on hands ,to see if the parts that run on bushing was hardened deep ,here is a few pics,it was hardened for about .080 in depth,probably induction case hardened,deep enough not to distort the cam too much,but since original outside diameter is 1.000 inch on later models compare to .8125 inch for early models , a difference of .1875(3/16 inch),so no more hardness at the finish size.
I did order some inner bearing sleeve that were .6875 inside diameter with a .9375 outside diameter and around 1 inch long,which is about a 1 /2 inch too long,so I ordered some bearing hardened sleeves form UK,cause I could not find any in Canada.
Basically all you need is there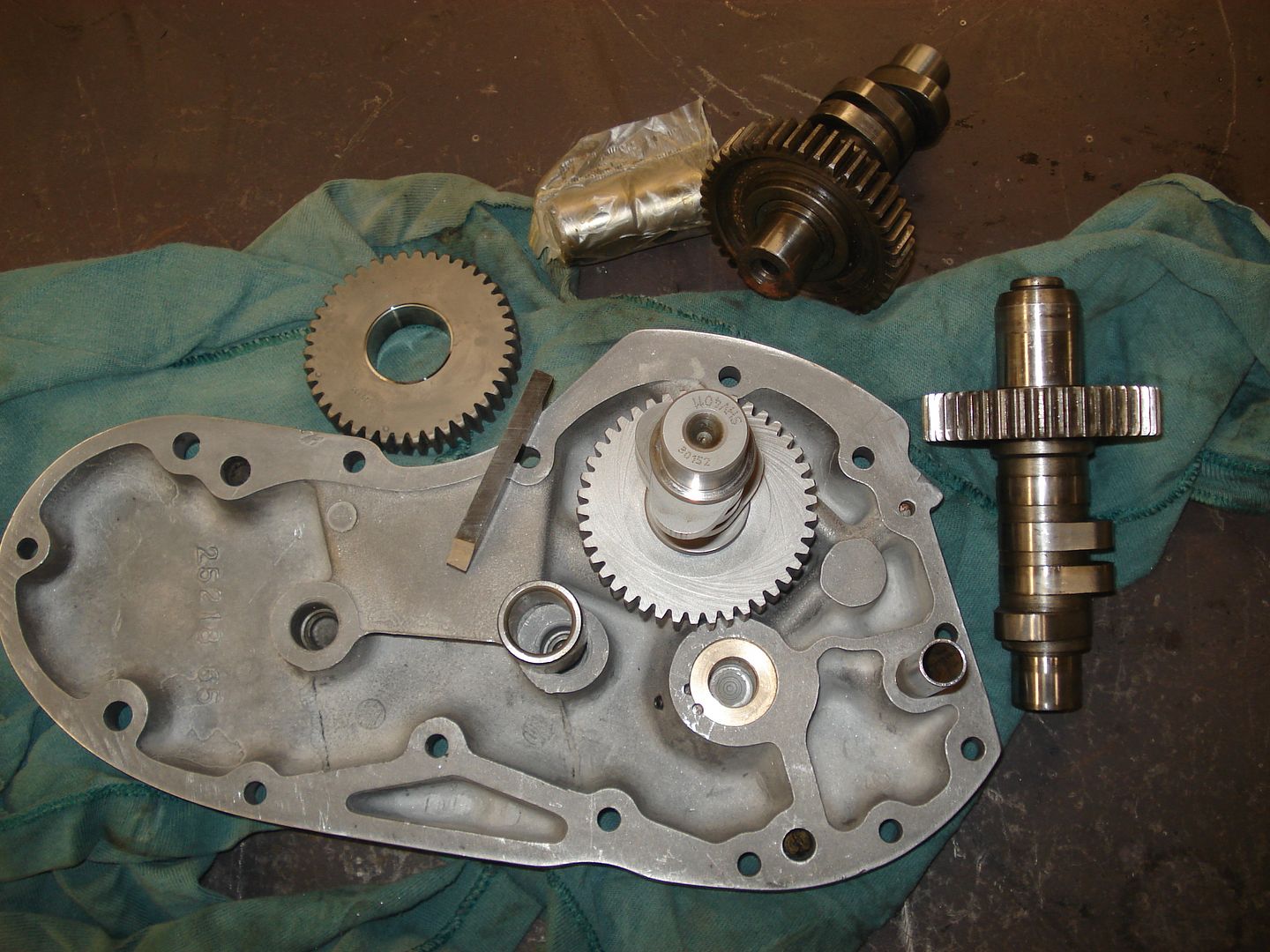 I ordered a brand new late models V-Thunder camshaft from ebay, for cheap, and some hardened bearing sleeve from UK,and I was all set to modify the late camshaft to be run in my new project ,my 66FL…
Look at the third ones you will see the difference in length and size compare to the others

Here is my first test with a Evo camshaft to see if the job was possible,took off the gear and use the ceramic insert on the lathe.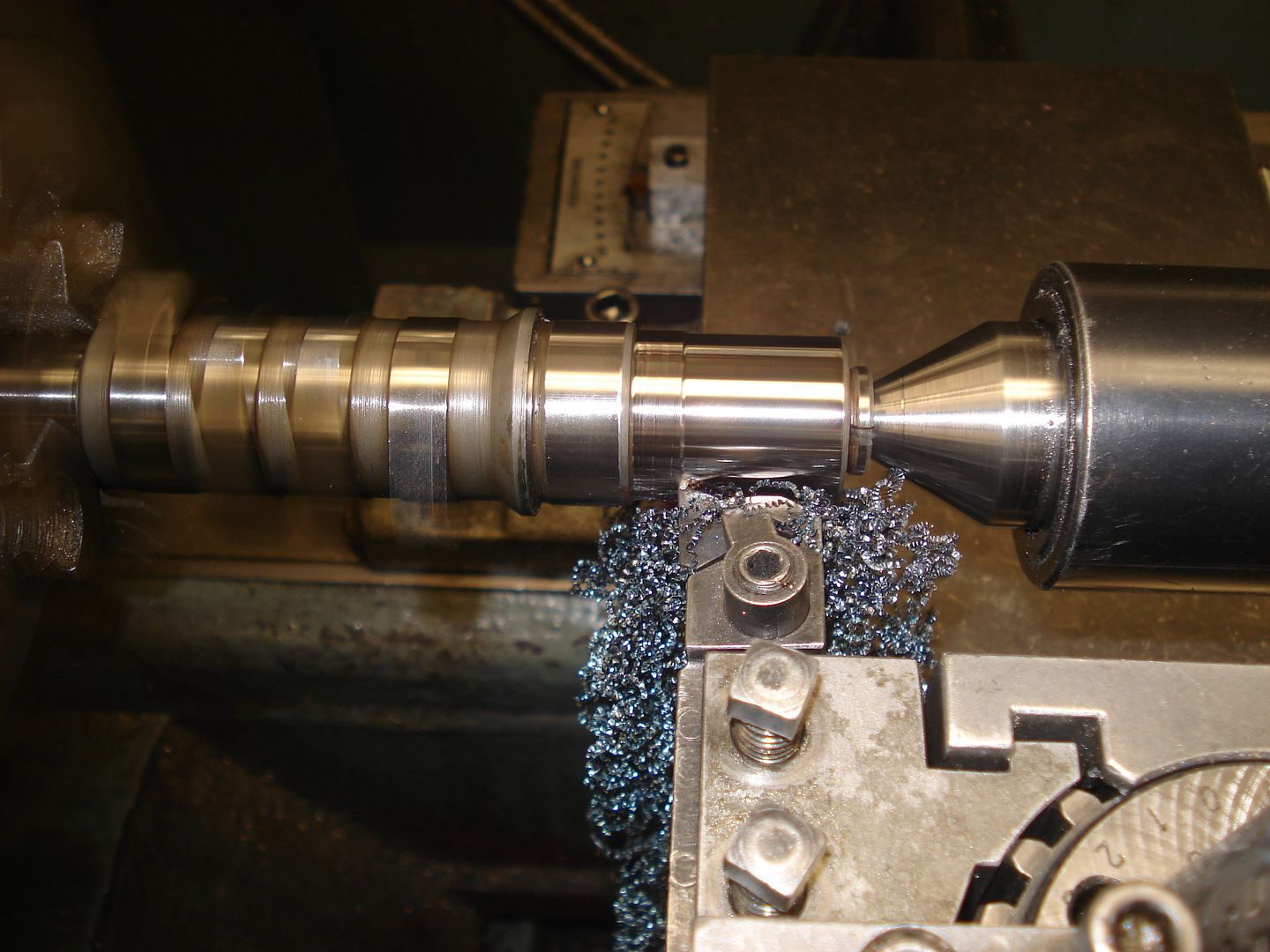 Roughing was done on the old camshaft,no need to finish it,I was ready to try the good one.
Here is the inner bearing race that I will use for the update,when maching the camshaft you will need to machine under the hardened part and to make sure wear is reduce to minimum you will need to use a hardened sleeve.
To make sure the sleeve was not case hardened only I did a set up machine outside diameter close to finish size then check on Rockwell tester,same as before ,steady at 61 RC
So I was ready ,install the camshaft in the new 3 jaws,grab on the gear to rough the outside
You could see some material left on the shoulder,that would remain till the end so I could make my last cut with a 1/8 radius tool to make sure the shoulder have a higher strength,top of radius is way bigger in diameter than oem undercut.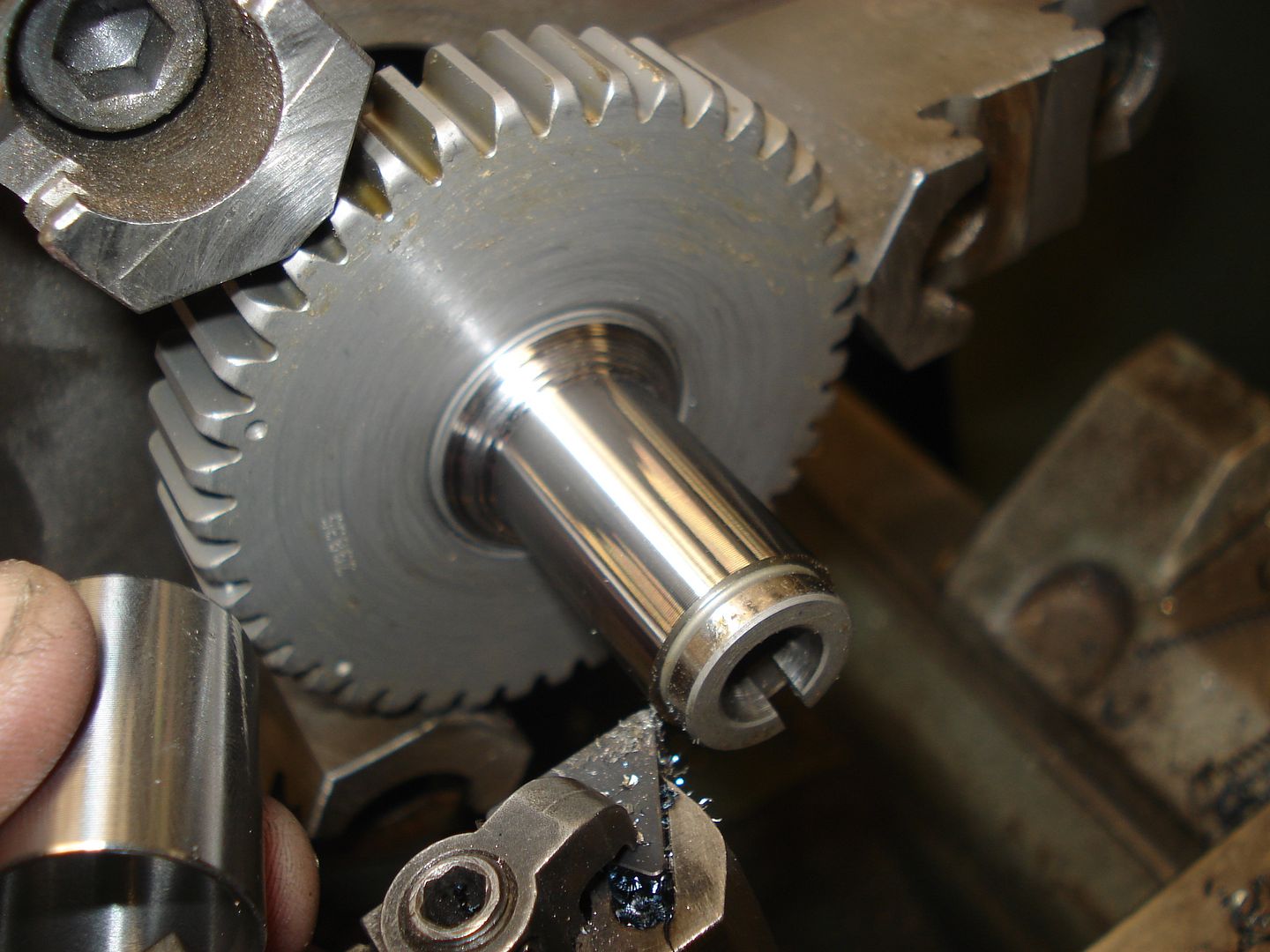 Time to press the on the gear on camshaft, use snow to cool the end of the camshaft
sleeve
Start to press the bearing sleeve on camshaft ,with the use of the 7649 loctite primer and the green 680 Loctite I bottom out the sleeve,to make sure even with a .0005 press fit the Loctite will double the chance of the sleeve turning if the bushing to camshaft clearance is not enough .
Ready to finish the end roughing,you could see line between sleeve and shaft and some Loctite
Roughing is done ,left around .008 inch to finish outside diameter to final diameter at .8125 inch,will now take the gear off and dial everything perfectly to finish the job to have a perfect concentricity between both end and gear position.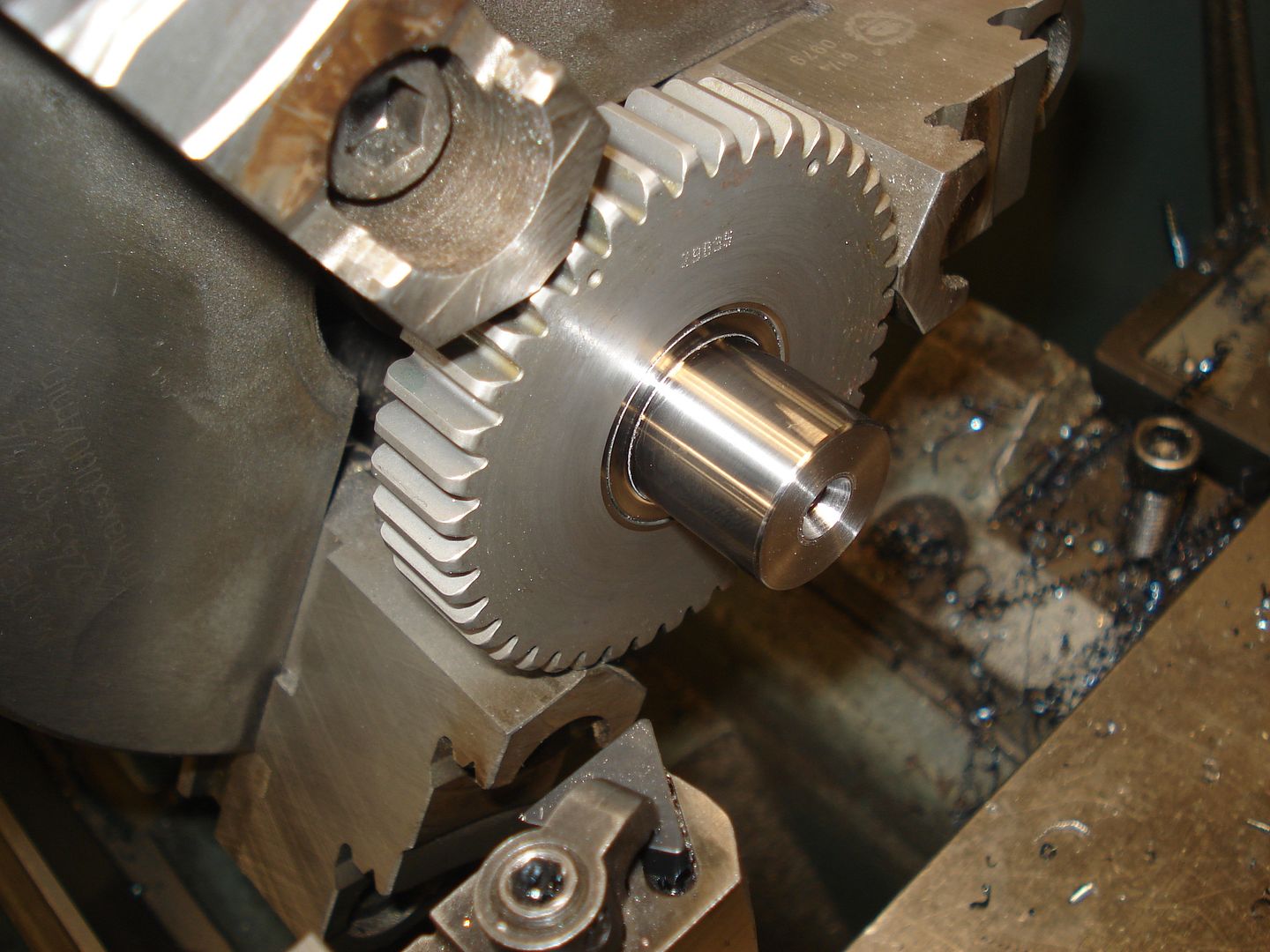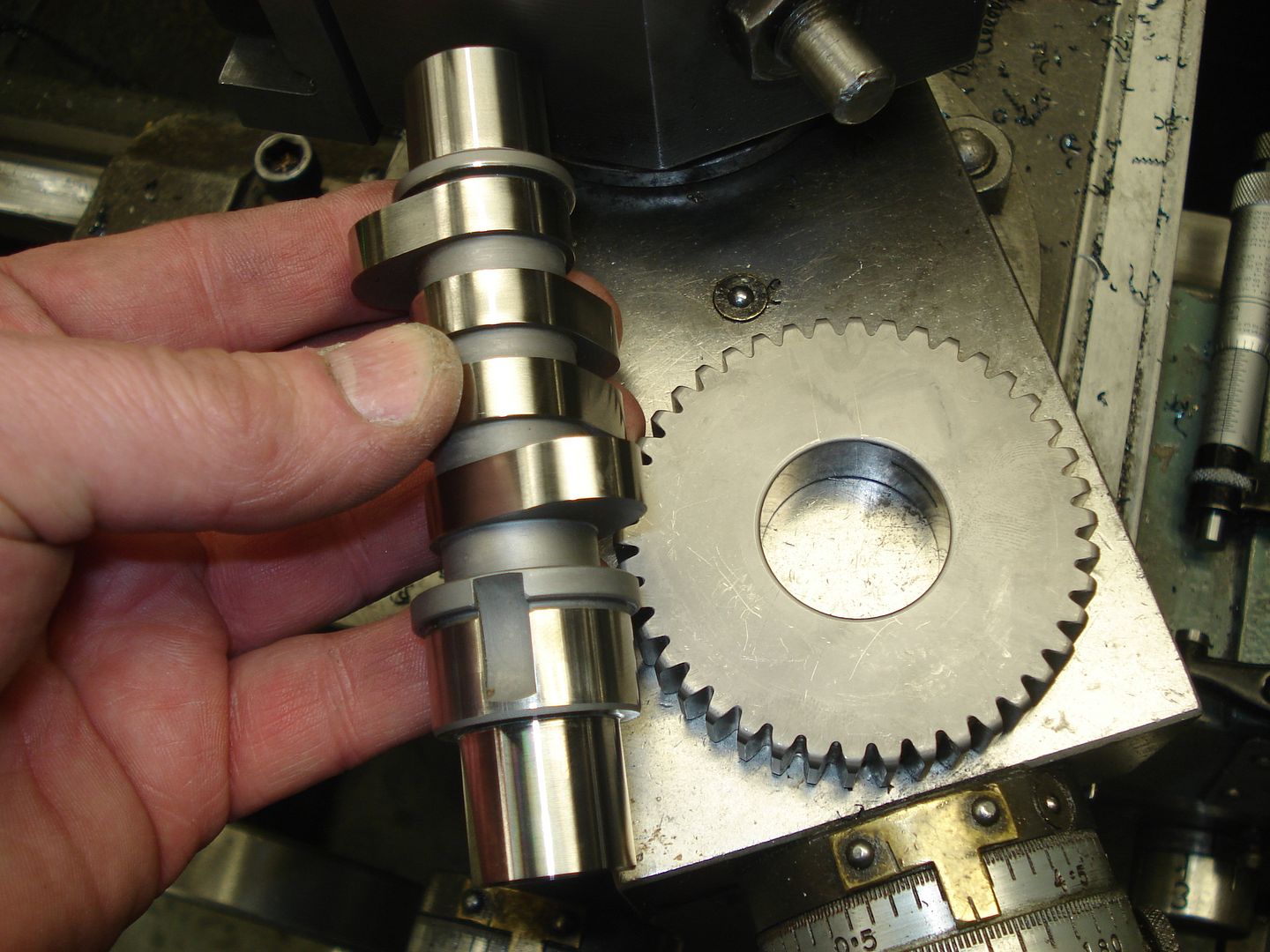 Another small trick here ,if you suspect the center to be off at the end of shaft use a small nut and put pressure with live center dial to zero then you are ready to machine to final size.

Final size is dead on,now time to get old gear from oem camshaft out and press on this later v-Thunder camshaft.
Job done with both timing mark darken a bit