June 5, 2014
How To Recondition Classic Harley FLH Hydra Glide Forks
Hi Everyone
I will show you how I take care of old FL tube inner bushing repair, most of those early set are all worn out and need to be redone to be run again, most would just buy new aftermarket cheaper one than try to recondition the old one you have, the purpose of this thread is to show you that it is feasible with some tooling. I am going to demonstrate how to take those old bushings out first then, make complete new bushing from raw material, then press them in, and machine the new bushings to fit new inner tube.
Most would either junk them or rebuild them with aftermarket thin bushings and a Sunnen hone here is another approach to the problem.
I will try to post as many pics as I could so you could clearly see how it is done,here is a bunch of them I had ,decide to rebuild all but only finish 2 of them, due to inner tube size difference,(one was 1.623 and the other was 1.624 inch not as big difference but still my old one was 1.626 inch) so better wait until you have the inner tube, so could have perfect clearance for your new bushings.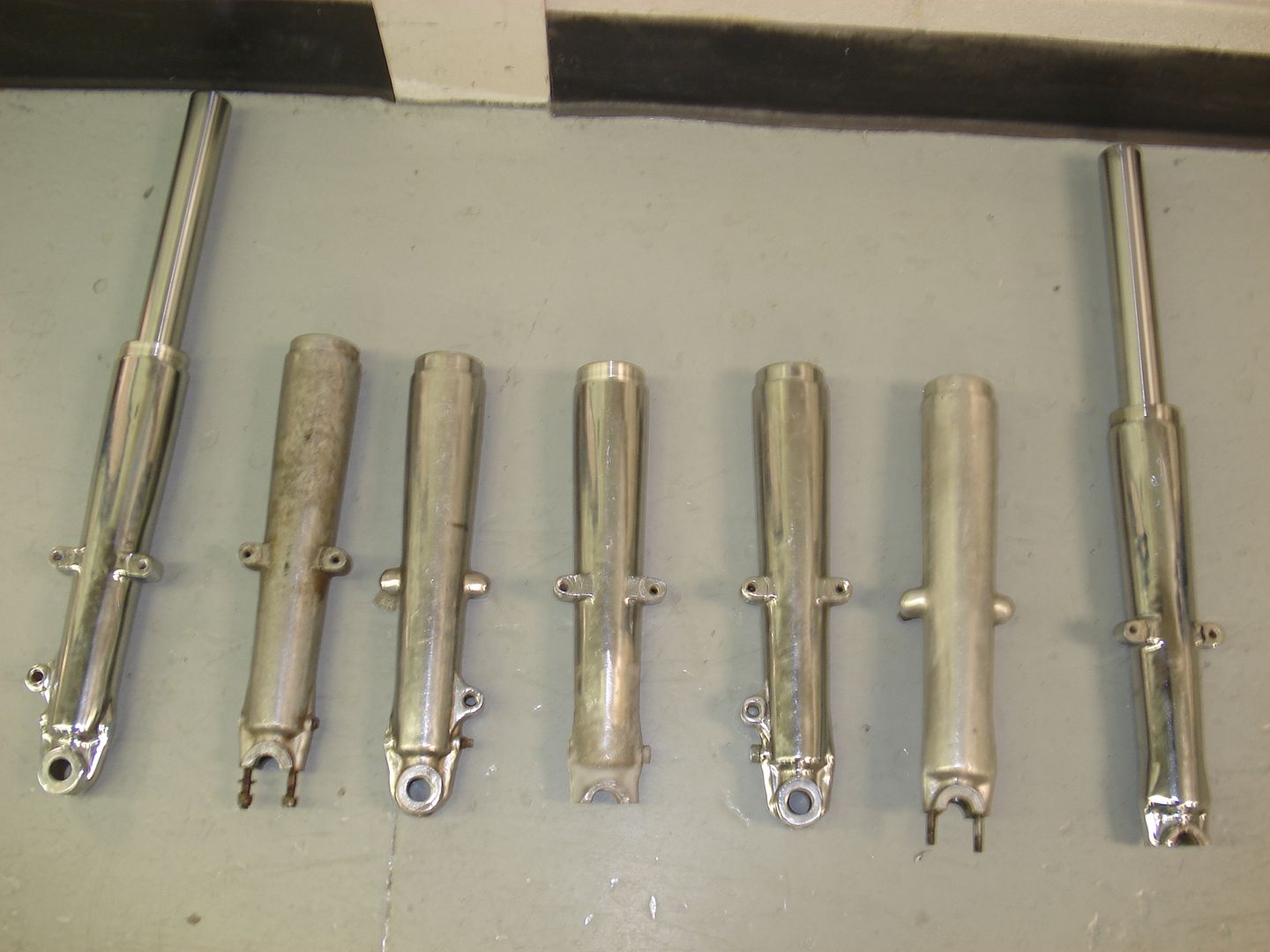 First you will need to take the old bushings out…my custom puller to take the bottom and top bushing out.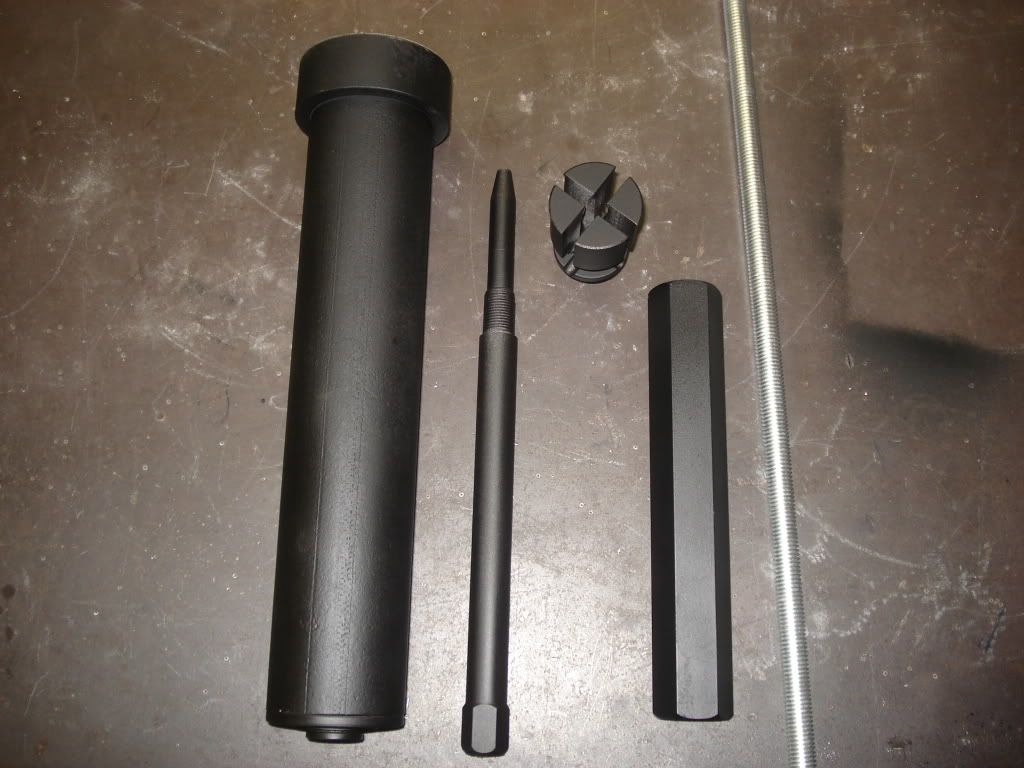 Here how it is working, first tested on an aluminum shaft with a hole to simulate the inner tube bushing, then tested in the bottom tube itself.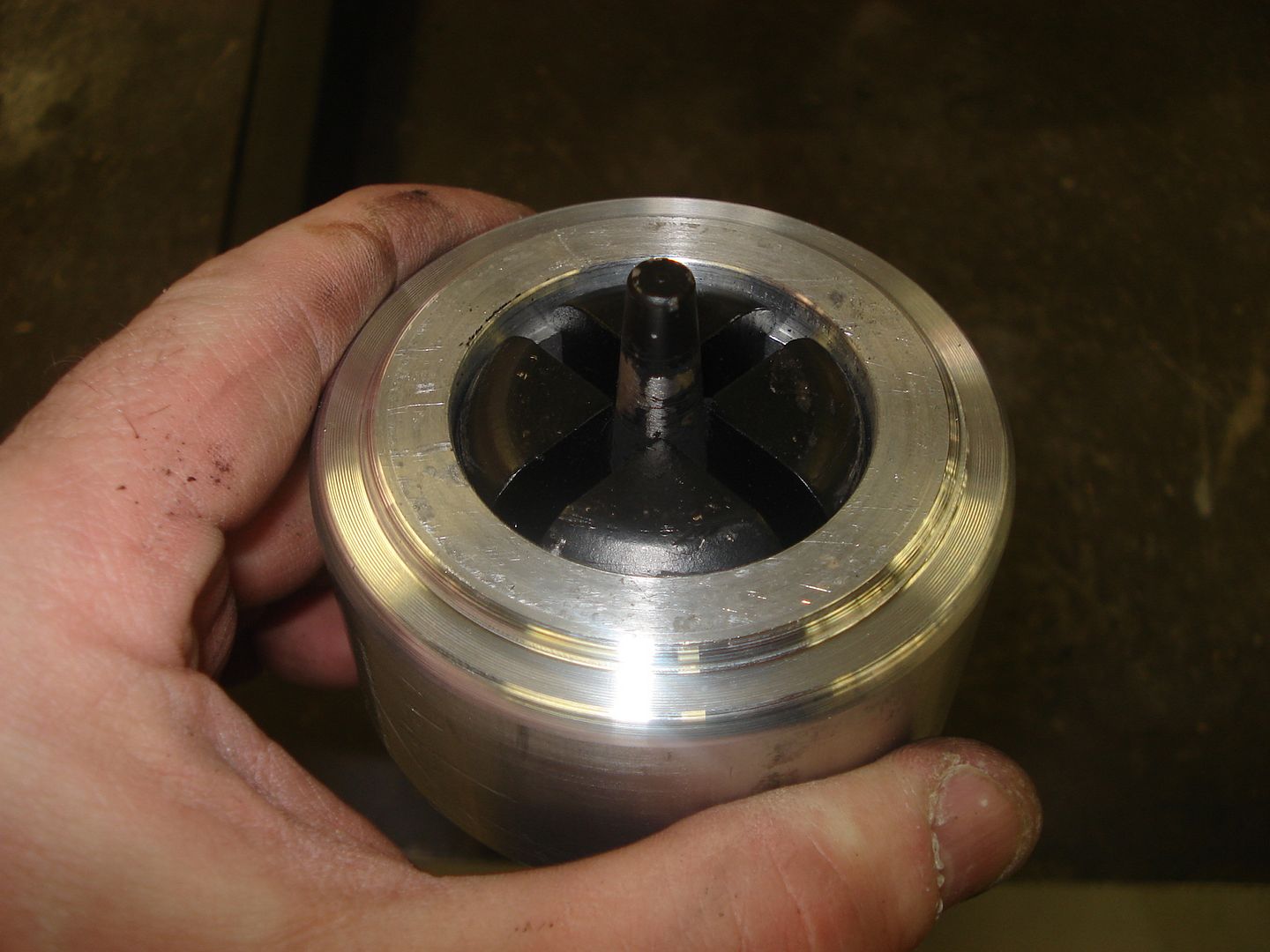 My very first attempt ,pull a few bushings out with it, but then it break,I  change to a different  material to 4340 heat treated stress relief and the next one was up to the task.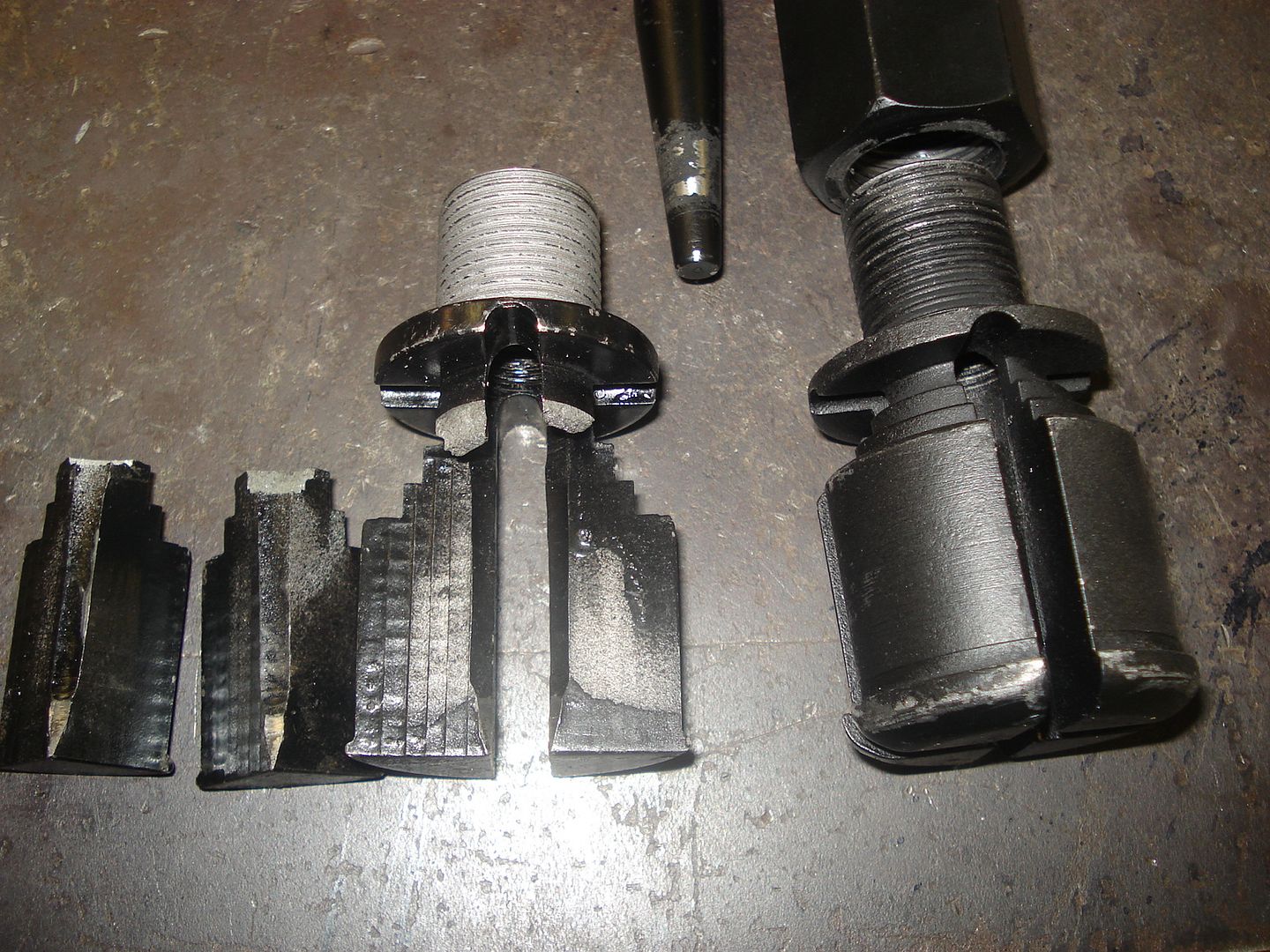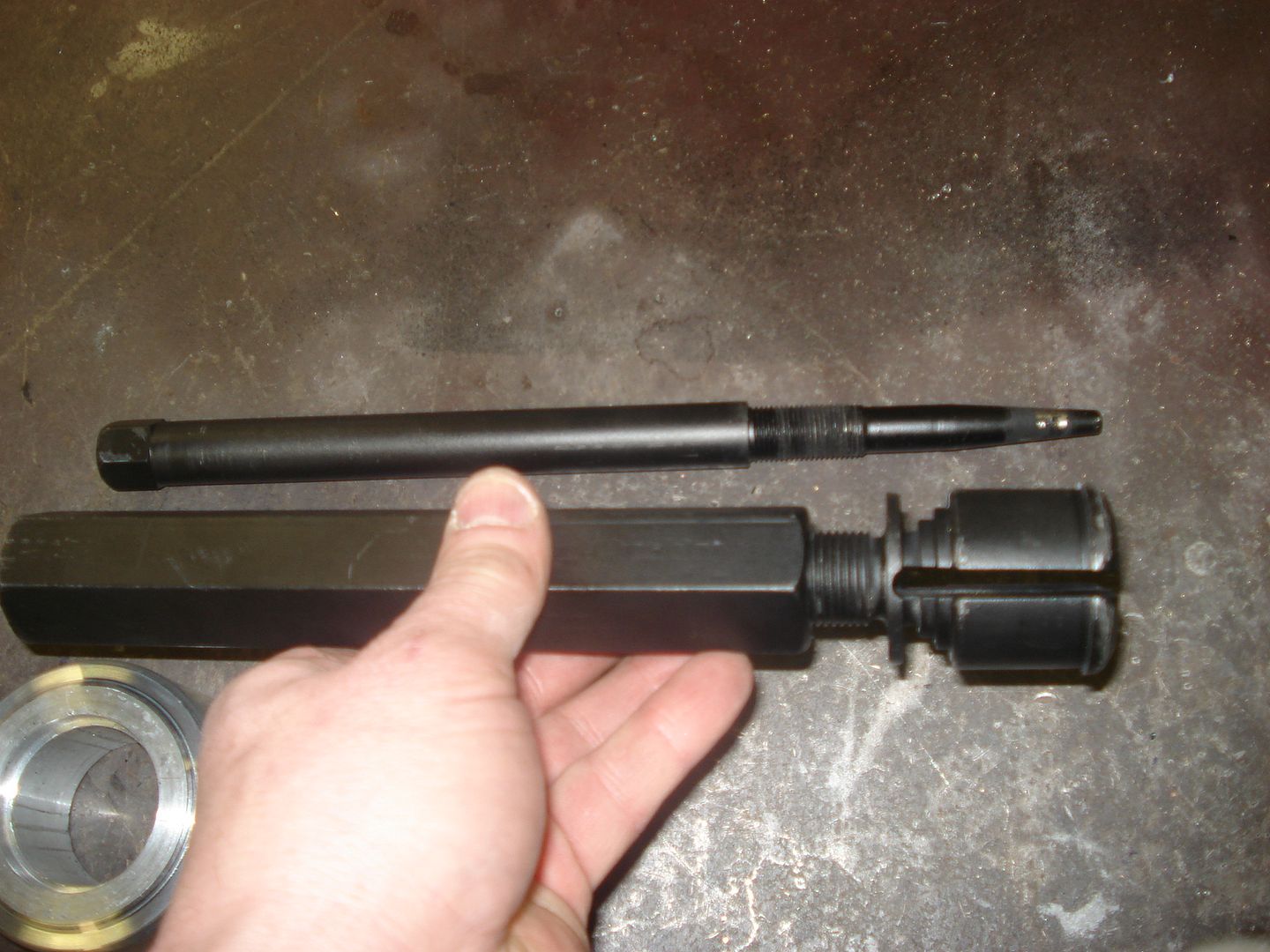 Here it is installed ready to take the deeper bushing out.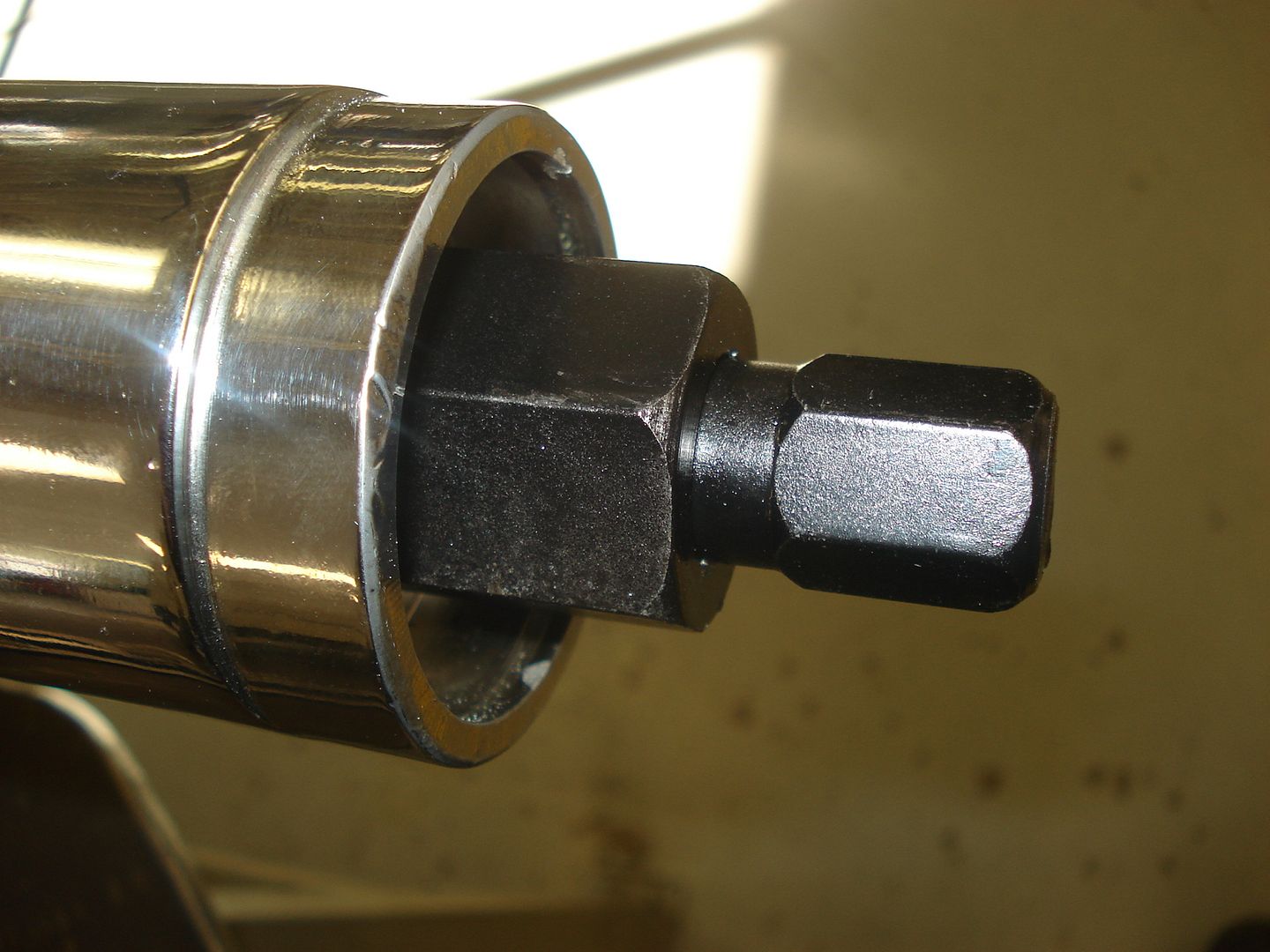 outer sleeve with a small trust bearing at the end
Install with a knock out puller handle, with stopper at the end.
The deepest bushing is out.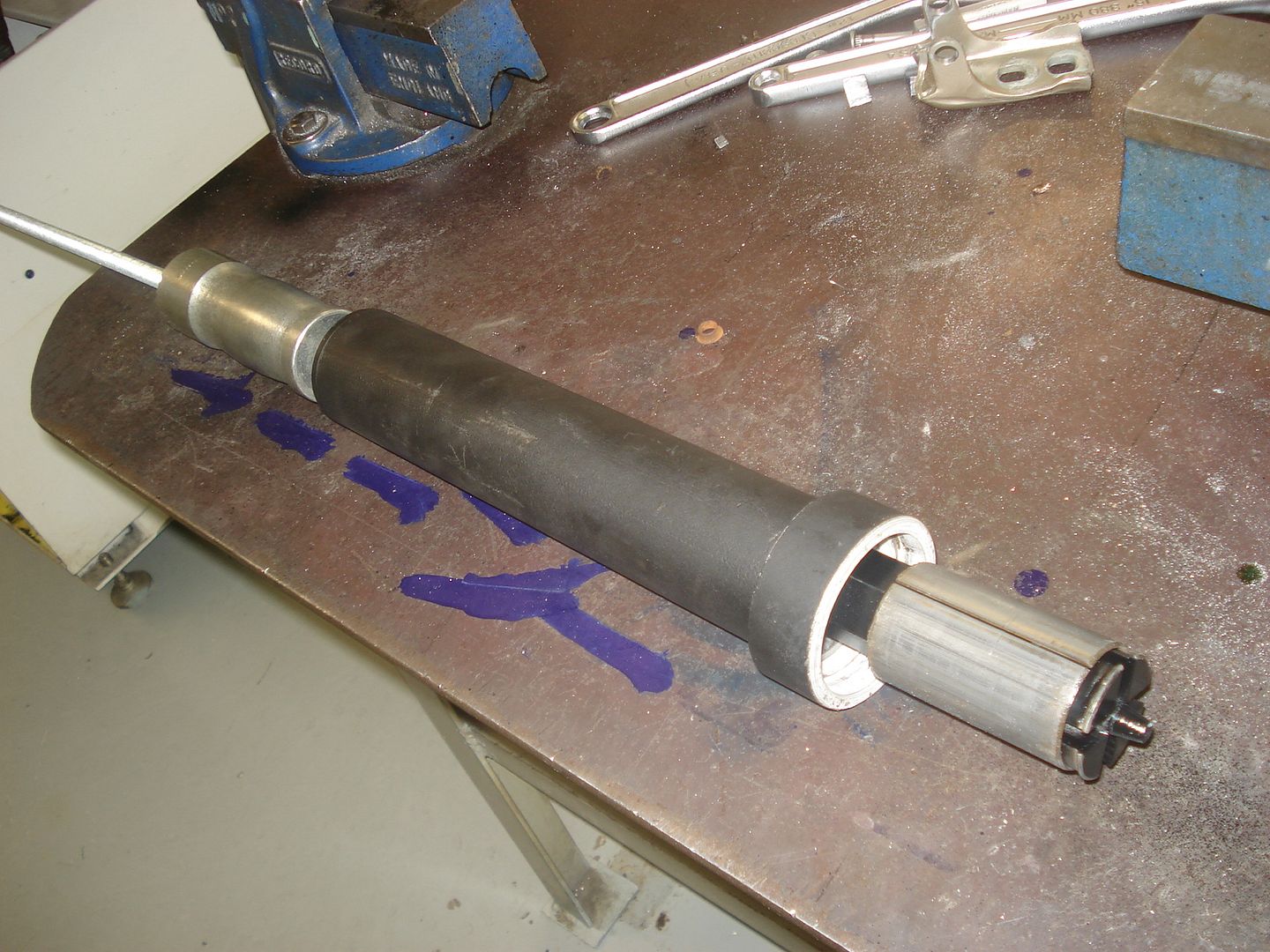 I found out that using a small propane torch help a lot to take the deeper bushing out.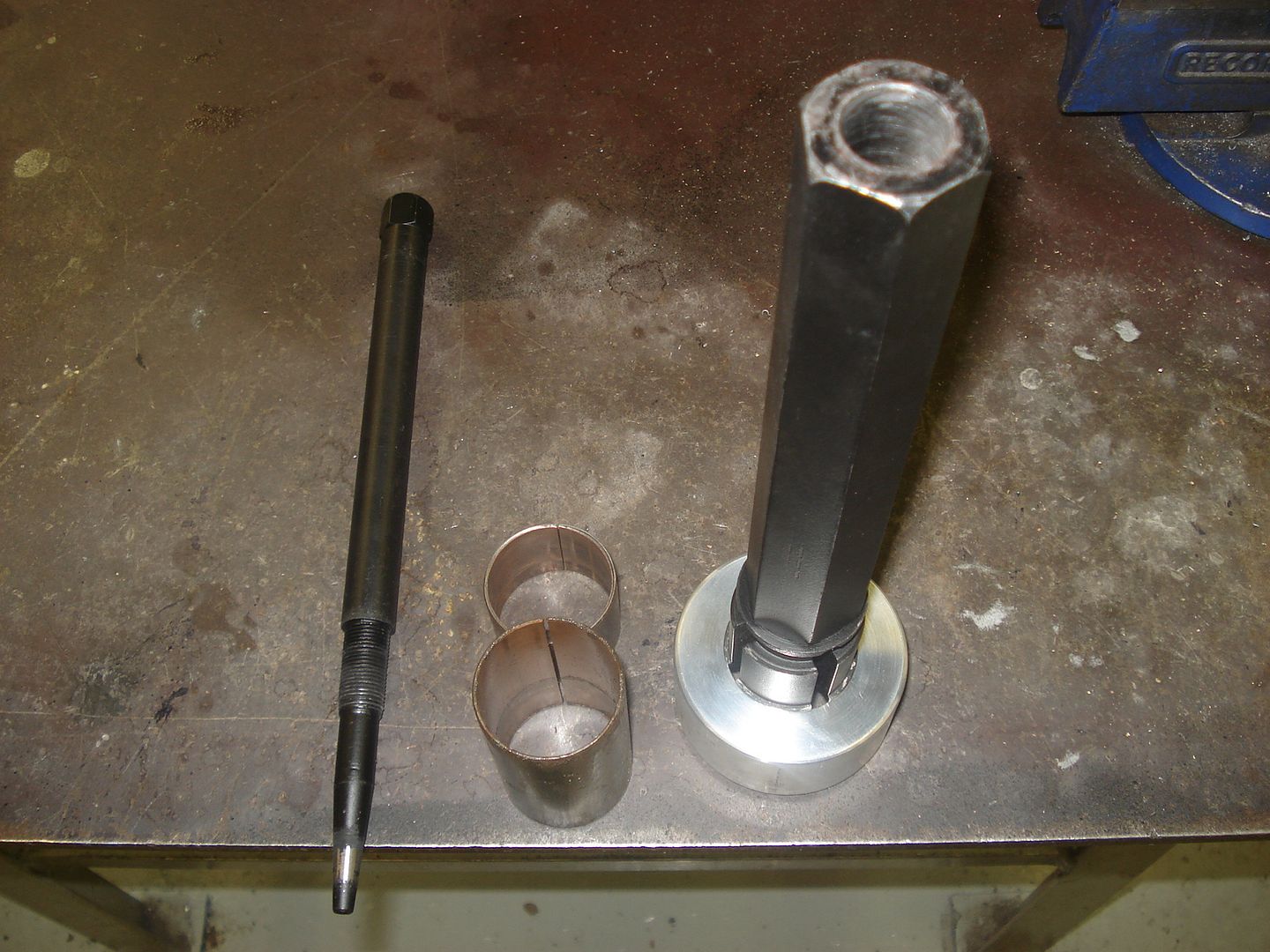 When both bushings were out, time to do some new ones with 660 SAE bronze,I don't like using those available, due to minimal material left for machining I always prefer to do my own from raw material and then machine ate final size at the end.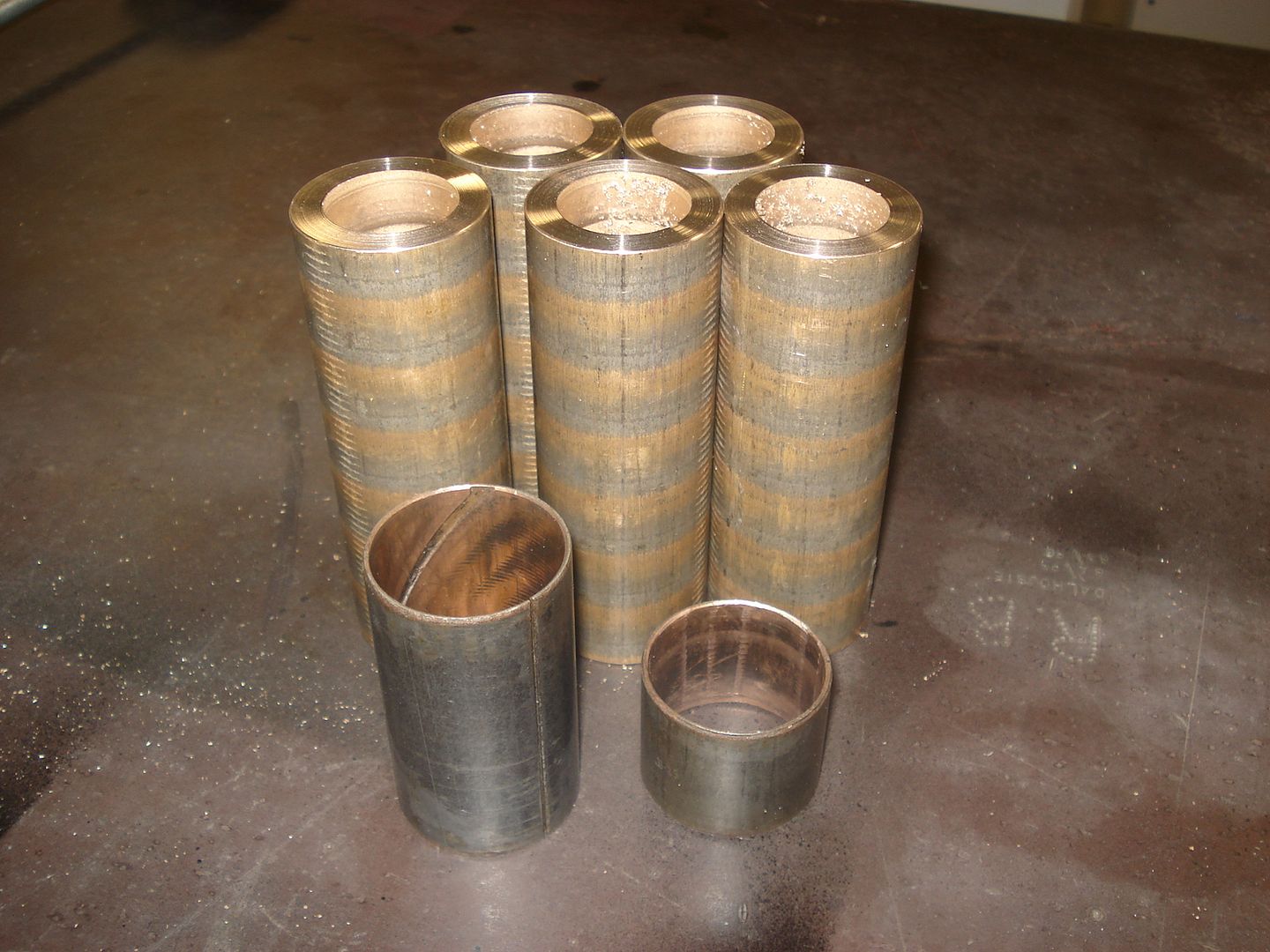 You can see the difference in thickness,when they are ready to be press in,still some material left to machine to achieve final size after they are press in.
Now time to press them in,using a special shaft made from an aluminum blank, see the groove this is where I need to stop, flush to outside of tube.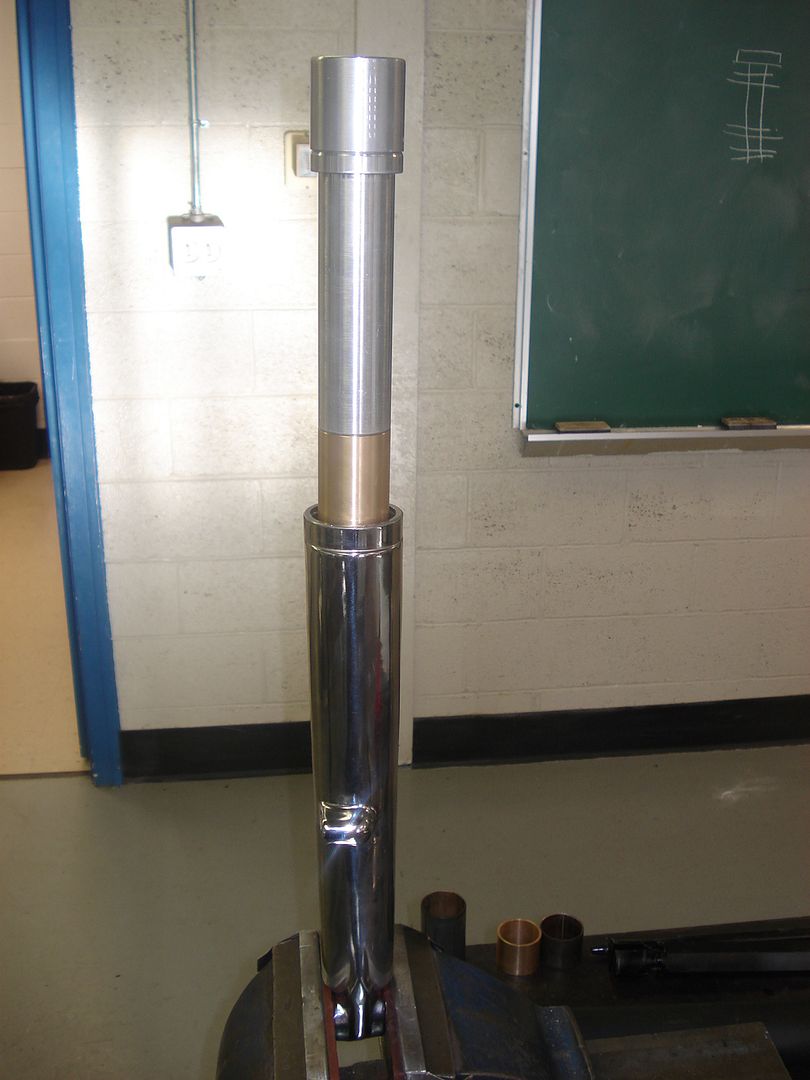 Using the press was an easy task to press them in ,special shaft was machine to support the bottom of the tube and is supported by 2 v-block on each side.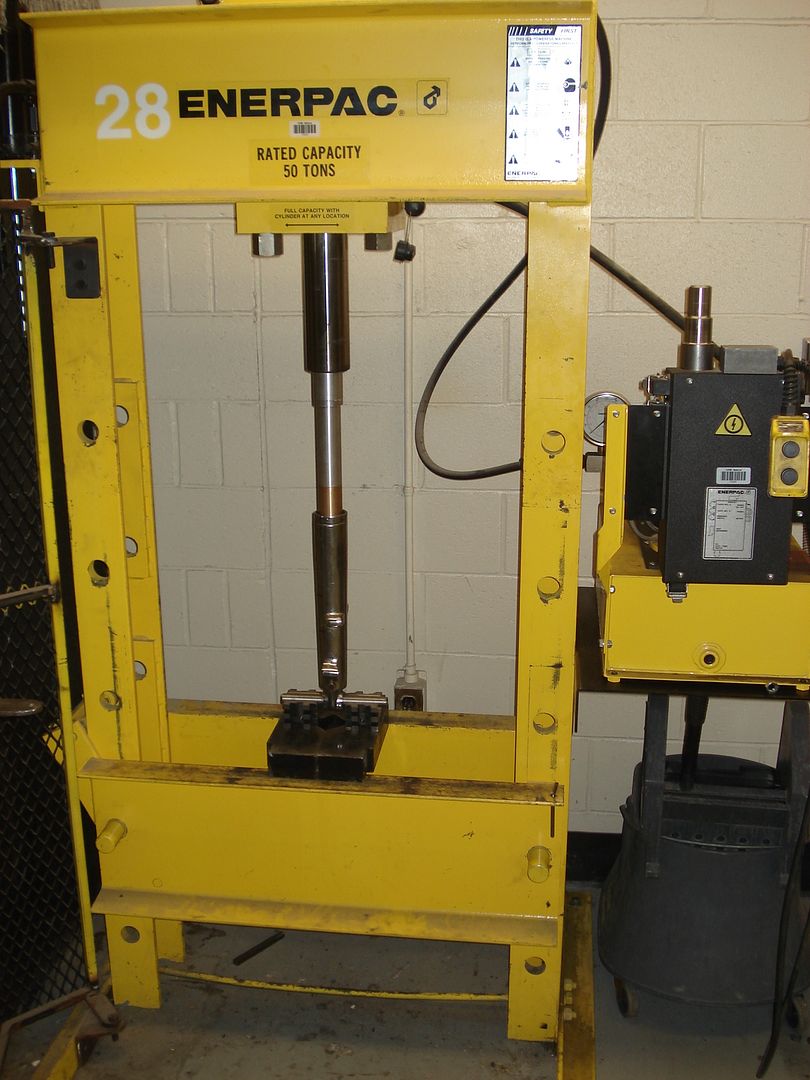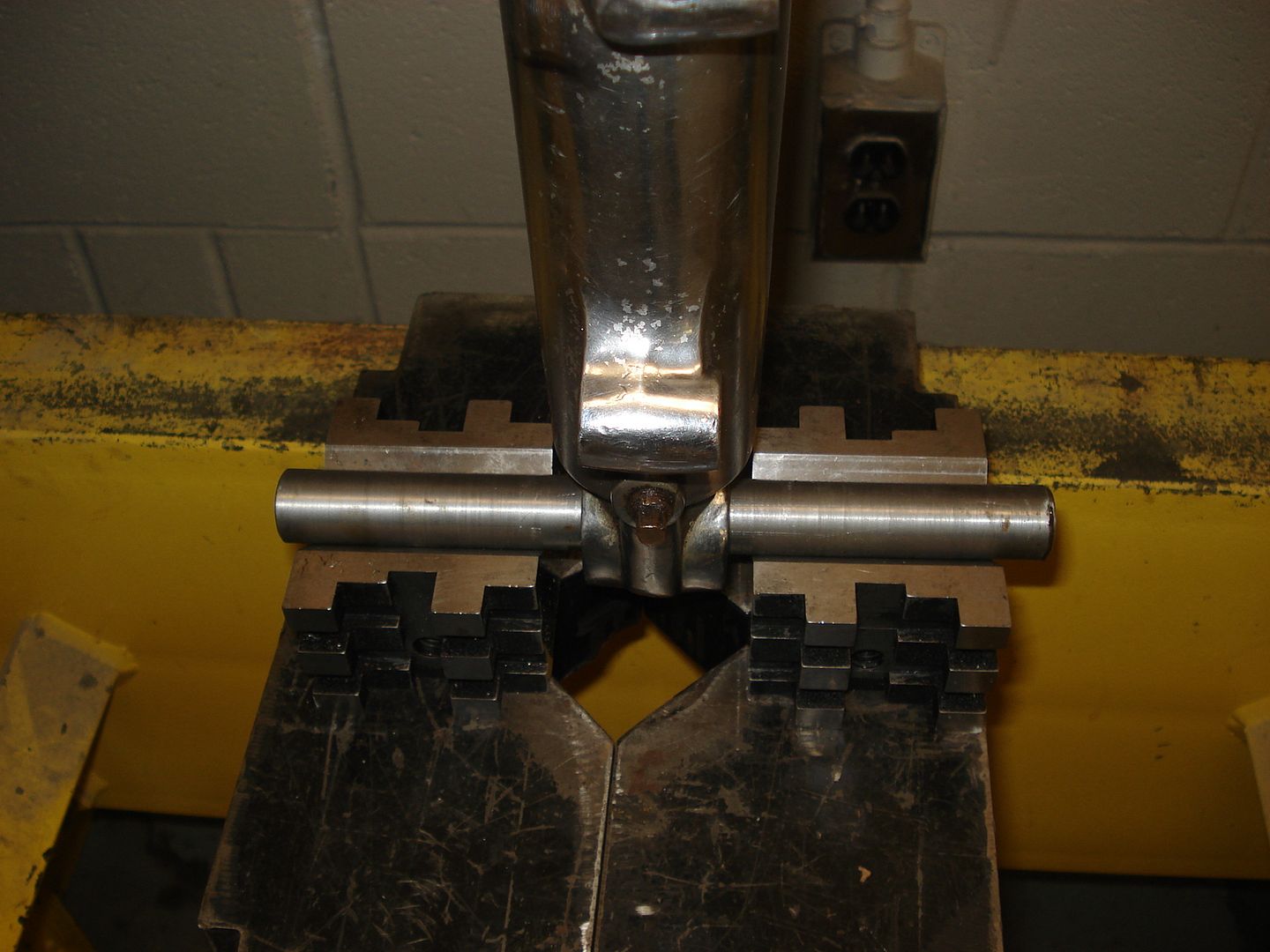 When they are all press in ,I need to take care of the final machining, here is what I use to secure the tube on the lathe, you can see the step shaft machine to same id of the end of bottom tube with a hole going true, half moon aluminum was made from blank to start with.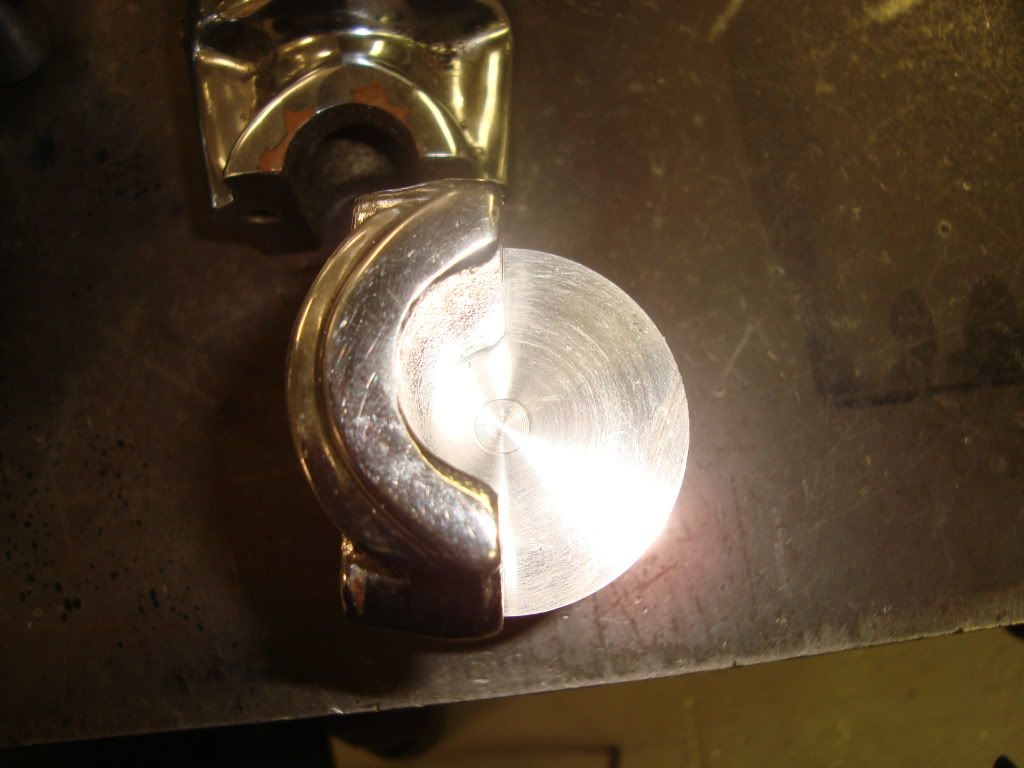 Here is the assembly for the final machining,secure with 2 Allen cap screws and then together with a studs with aluminum step washers.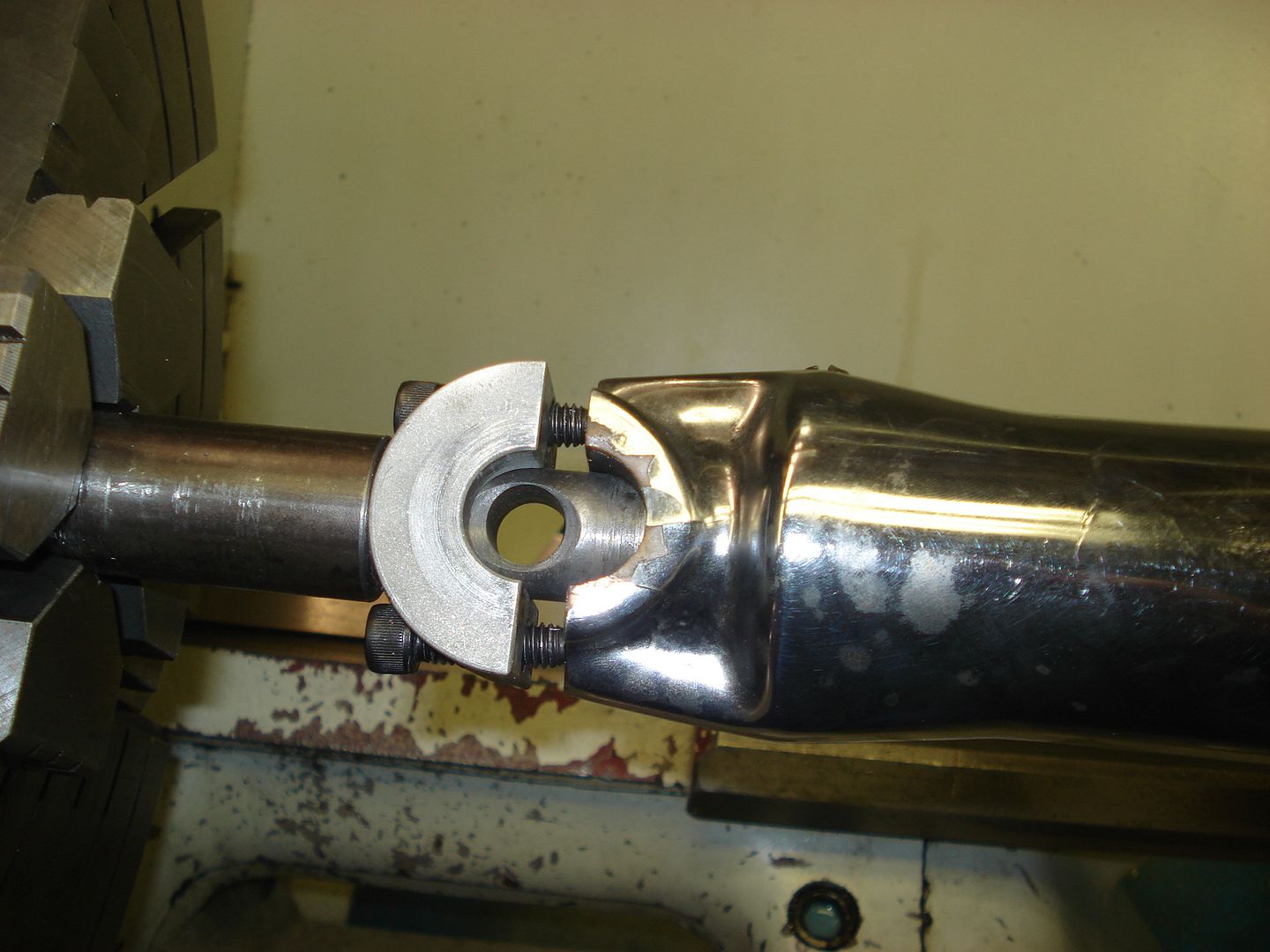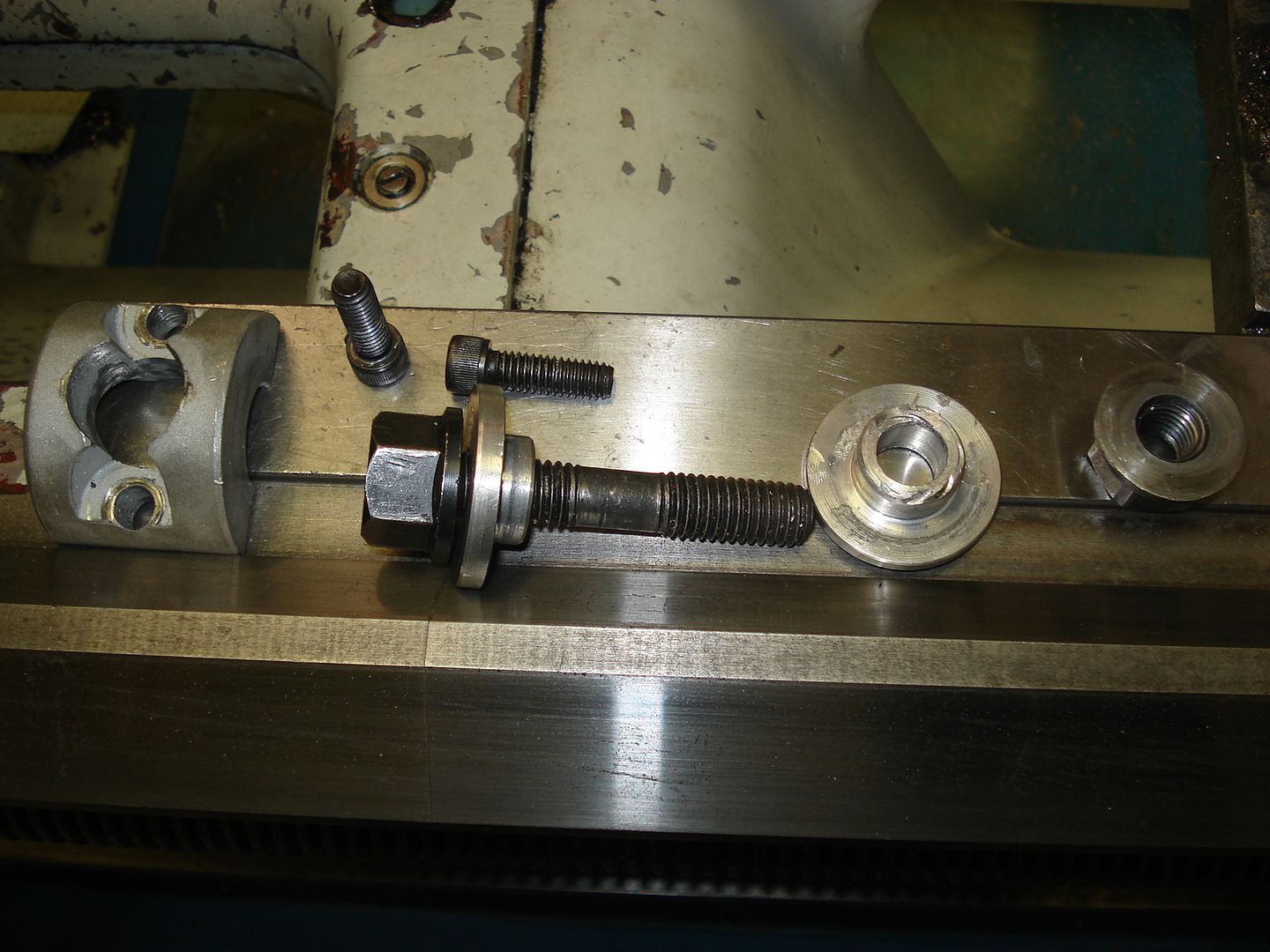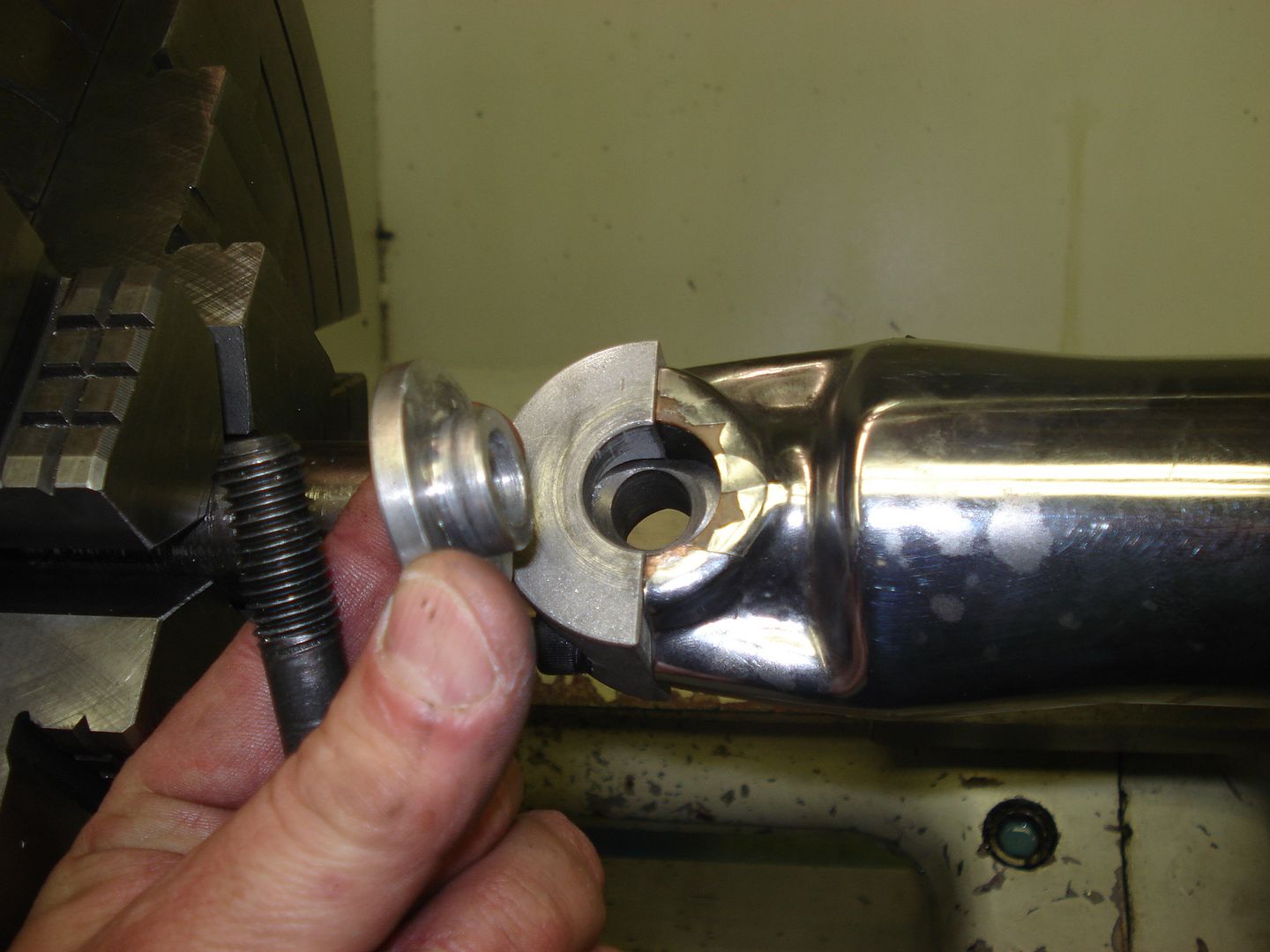 this is my drive to make it turn concentric with center of the lathe.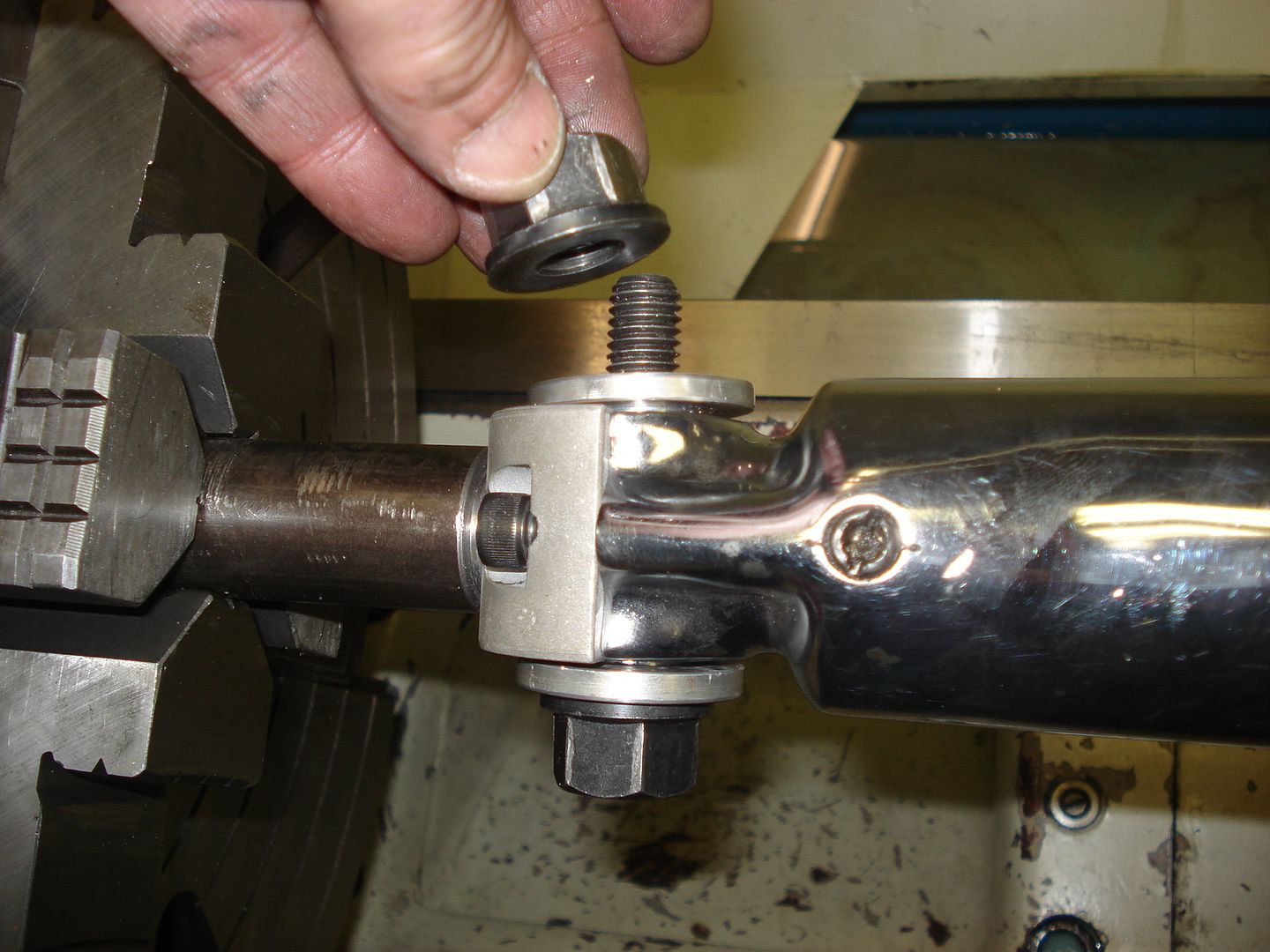 First one was quite round in the seal area, but second one due to chrome thickness being different,I had to take a light cut with a pipe center to make sure everything was turning with seal id.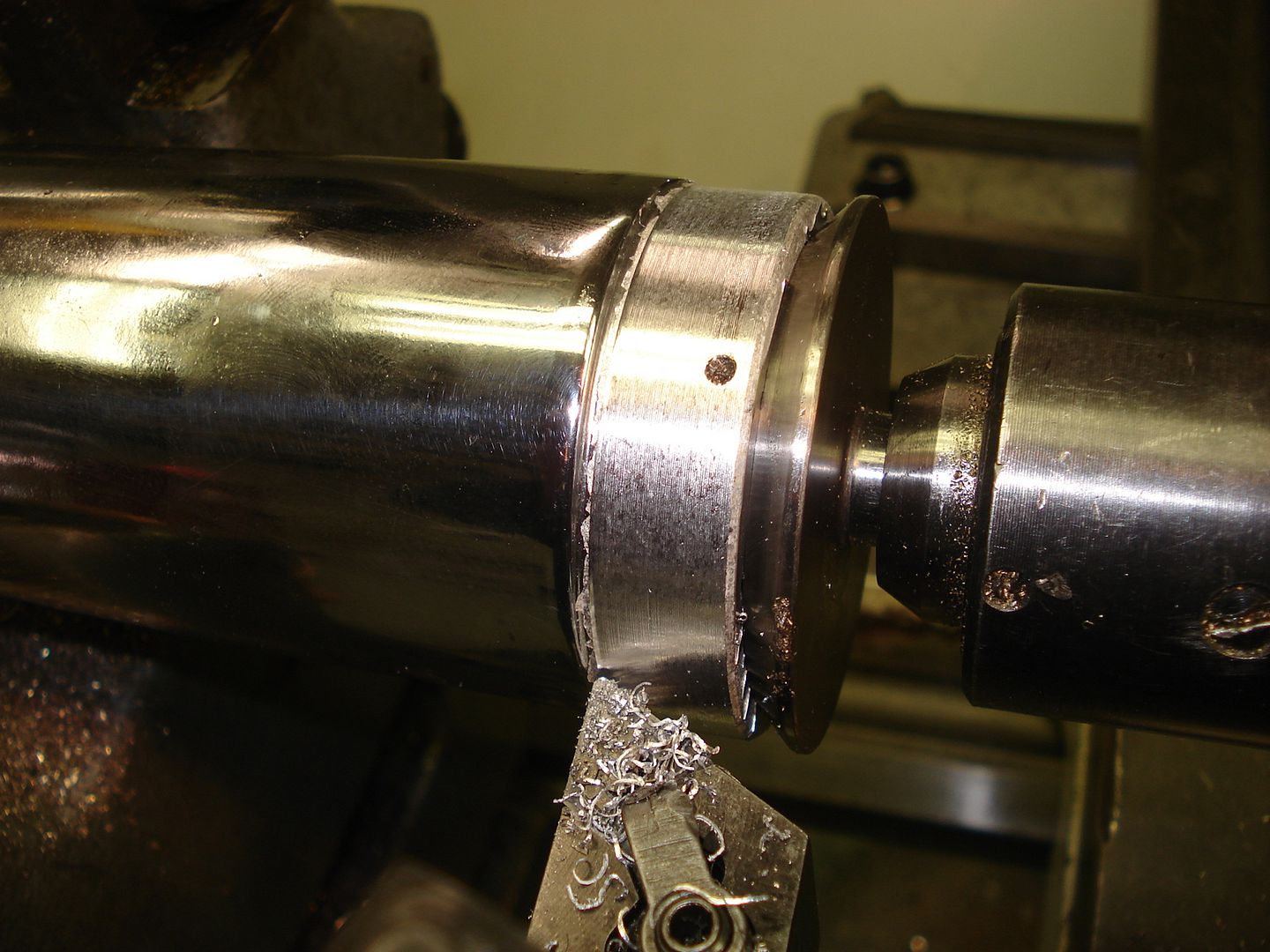 Then I change my cast steady rest button, to Blue Tyvar one's smoother and very hard to wear. Don't forget the oïl to lubricate.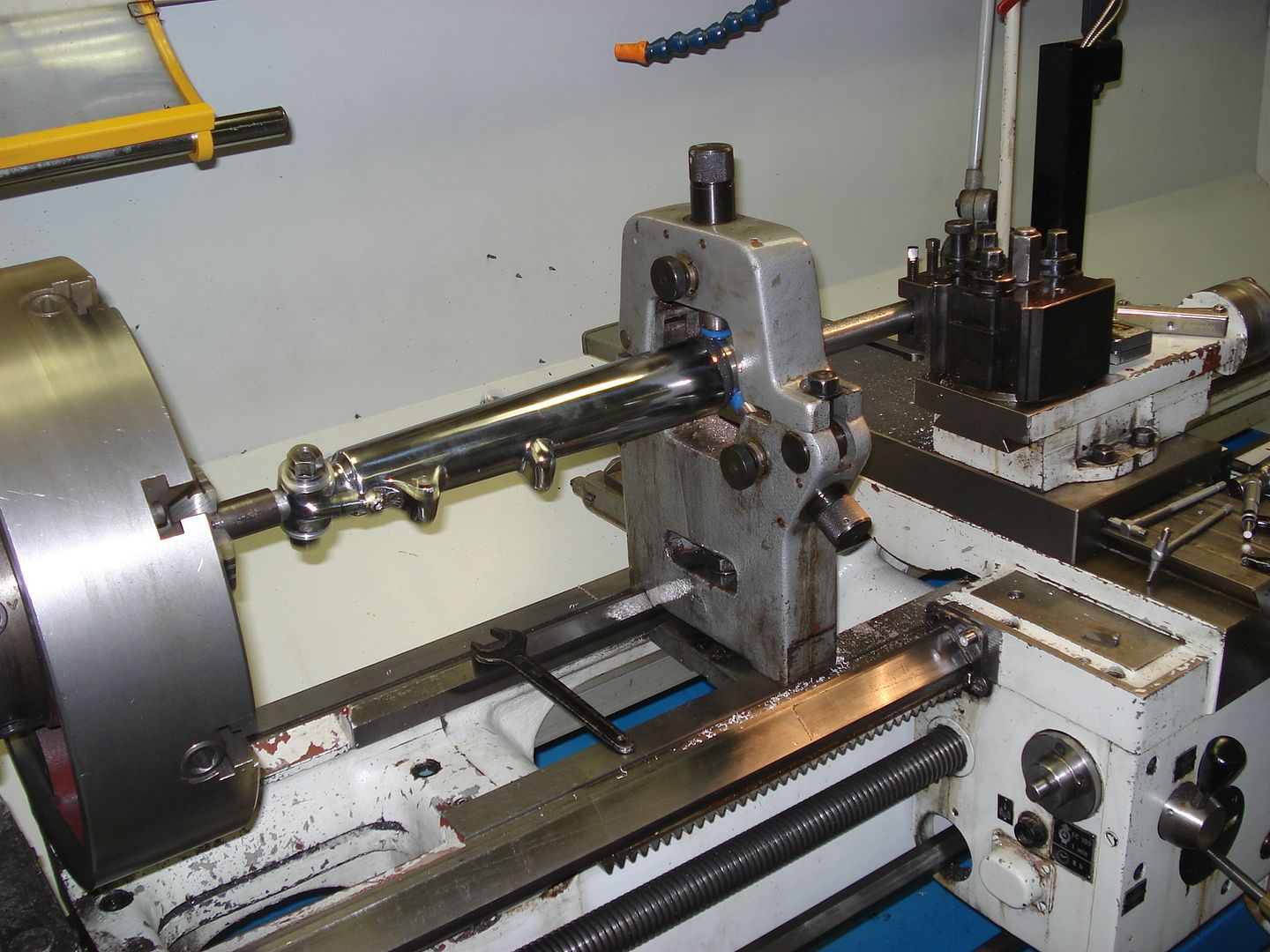 I prefer to use HSS sharp cutter than carbide mostly to avoid vibration, lathe is set at 90 rpm and everything is excellent.
First roughing cut, 2 cuts were taken to achieve final result.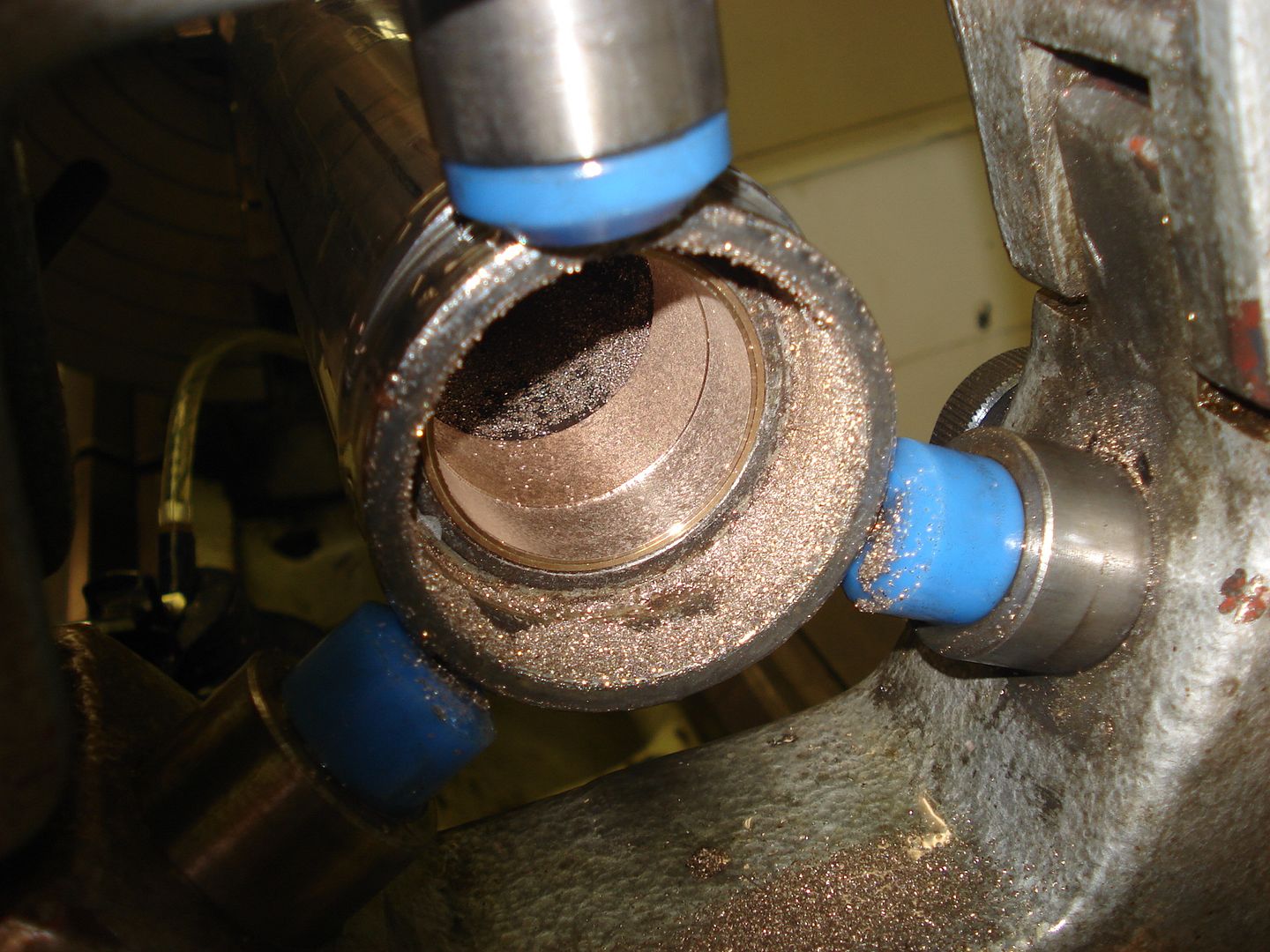 Last cut, stop to check measurement to make sure I will have the correct clearance for my inner tube, both inner tube have a .001 difference so you'd better wait to have inner tube to finish inner size.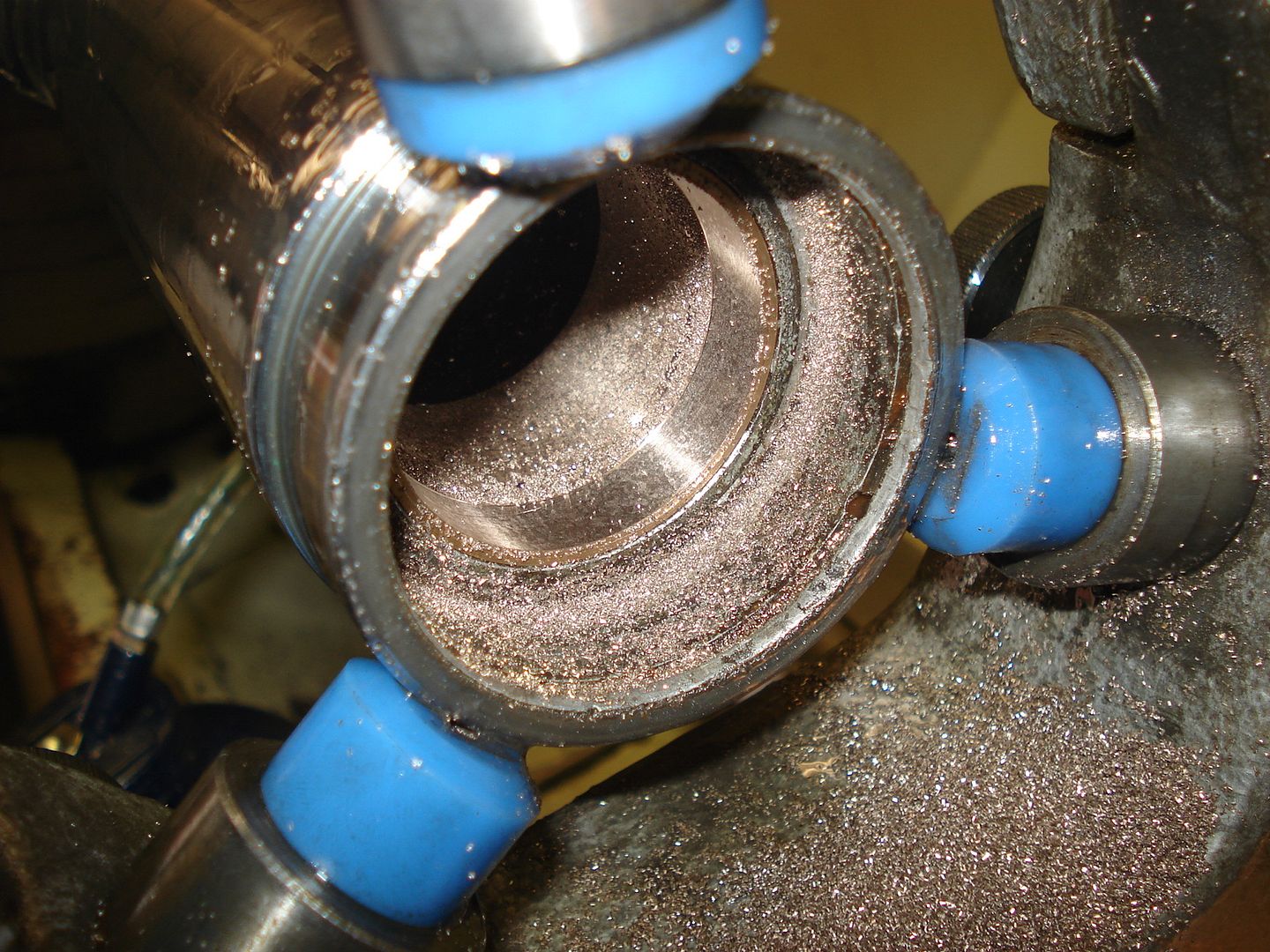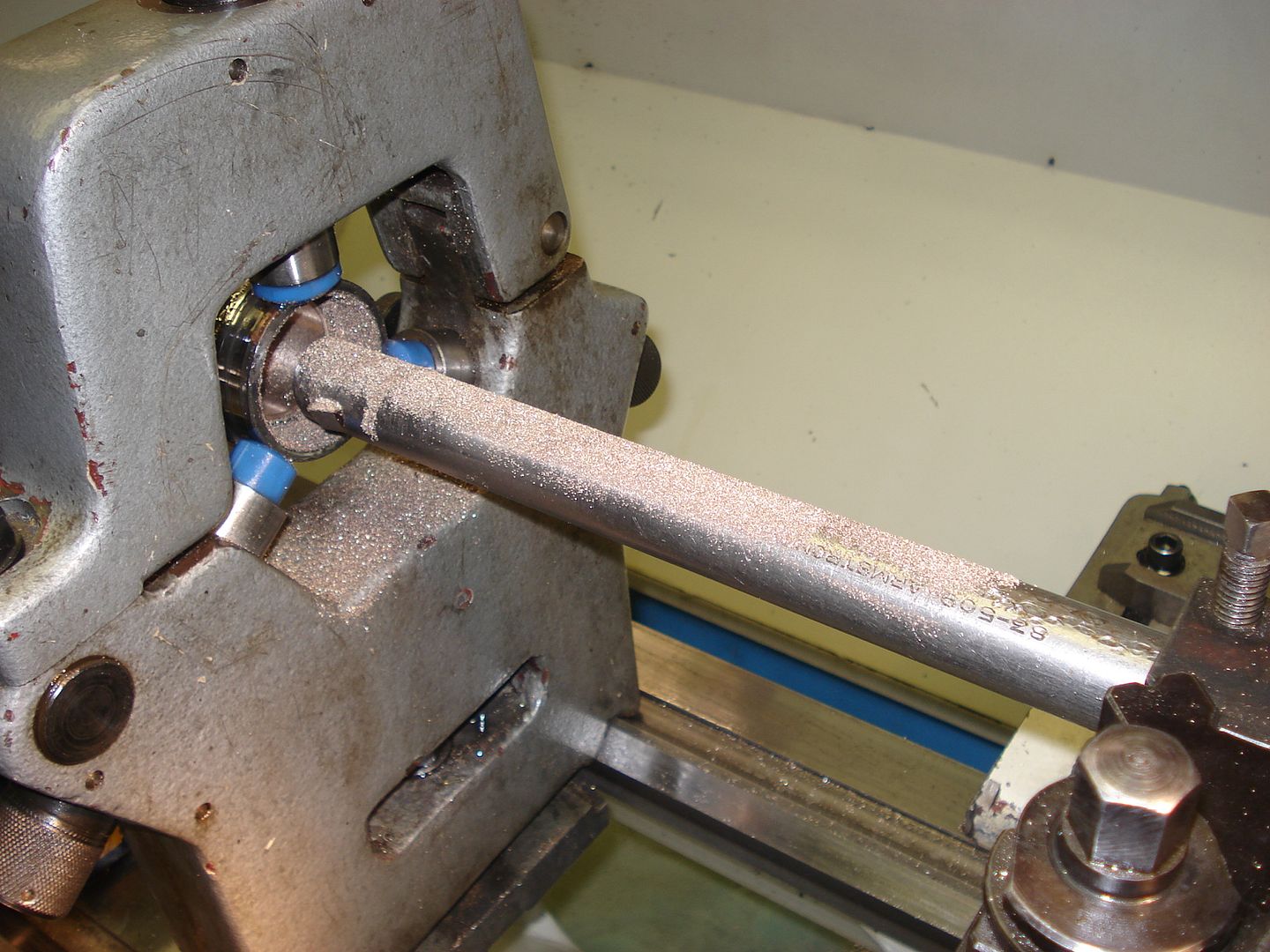 Final cut, time to try the new inner tube…perfect fit at the end ,:)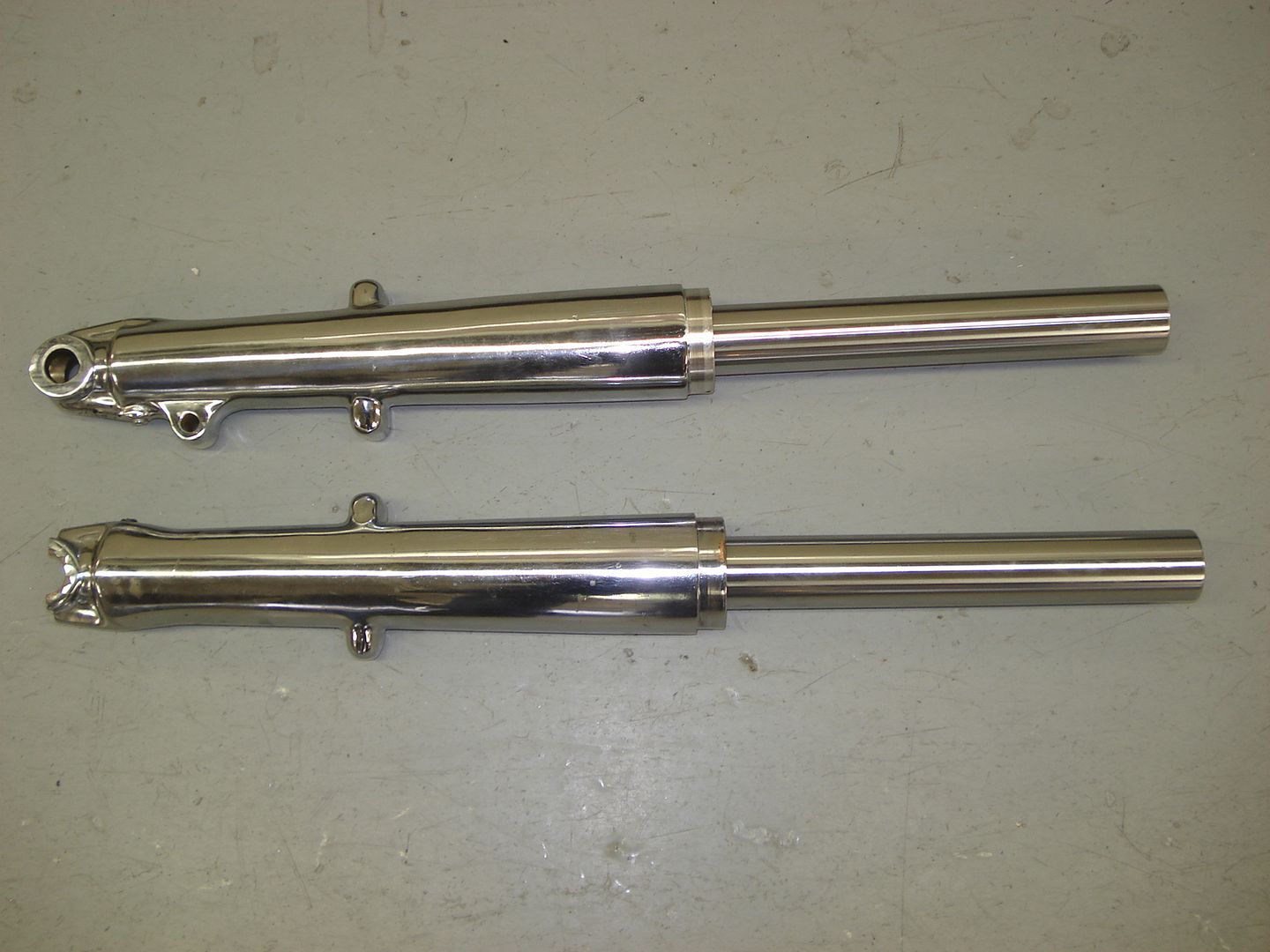 Hope you have enjoy this thread ,thanks Saddlebagrail