October 24, 2010
S&S Sidewinder 93 into 76 Harley Shovelhead case….the machining process,how to do it…
Hi Everyone
Recently I was approached to do a conversion from a stock 76 Shovelhead to a big bore/strocker kit from S&S,the guy want to keep is stock case so he could still have is Harley registration in is pocket  instead of having a custom made bike registration.
Some province or states have different law concerning those registration and here in New Brunswick(Canada) they are kind of really fussy about those and most tend to run away from custom build bike due the high insurance cost and the hassle that is around that.
I had no time to work on that during night time and weekend but since it look like a nice project to show my students some different things they should know and I  feel they should be interested(What do you think?….),so I accept to do the job in school (I am actually a machinist instructor working in a college ).
Here is how you proceed ,first you need to read carefully the instruction that come from S&S.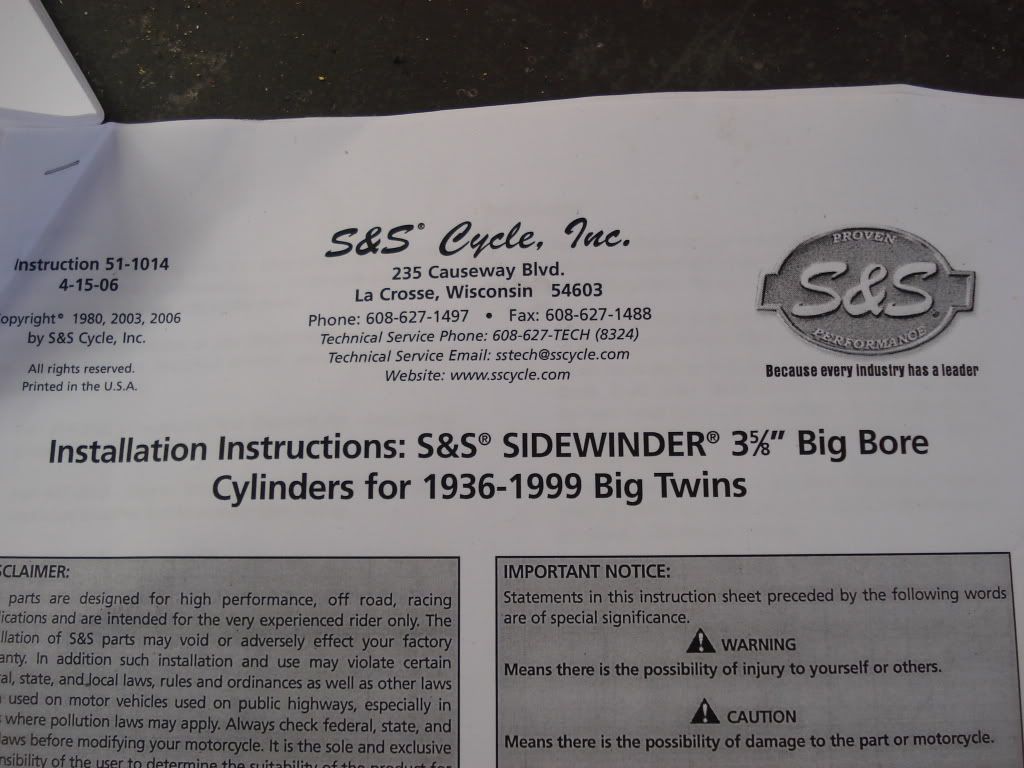 When I was approach to do the modification,first question I was asked to do, if I could bore the case to accept the new bigger spigot cylinders,that's all……well I say yes, but I was not sure I would have the time to do it ,but let face it,it was nice to show my students how to oversize a Harley engine to have more power,and as a plus it was a Shovelhead engine….so I accept.
My students were there with me  to assist and do several task including calibrate toolings ,take measurement,calculate bearing rollers size  and do small job…All you need are the proper tooling to do a job like that and remember the job here is to enlarge the 2 cylinders spigots to accept the larger S&S cylinders,but most of the time it doesn't stop there….probably more work involve than it was expected at first,but simply more fun and keep my students busy and interested….hopefully,and I think they were at the end.
First you need to take care of the 2 case halves that was brought to me ready to be bore…..Well not really,never assumed (You know assuming is the mother of all fuck up…I am sure most of you know that)  so never assumed that they were ready to be bored so I take all case mounting bolts and they were nor ready so I  cleaned,brushed,filed,sanded,and finally lapped both case to make sure everything was really mated together.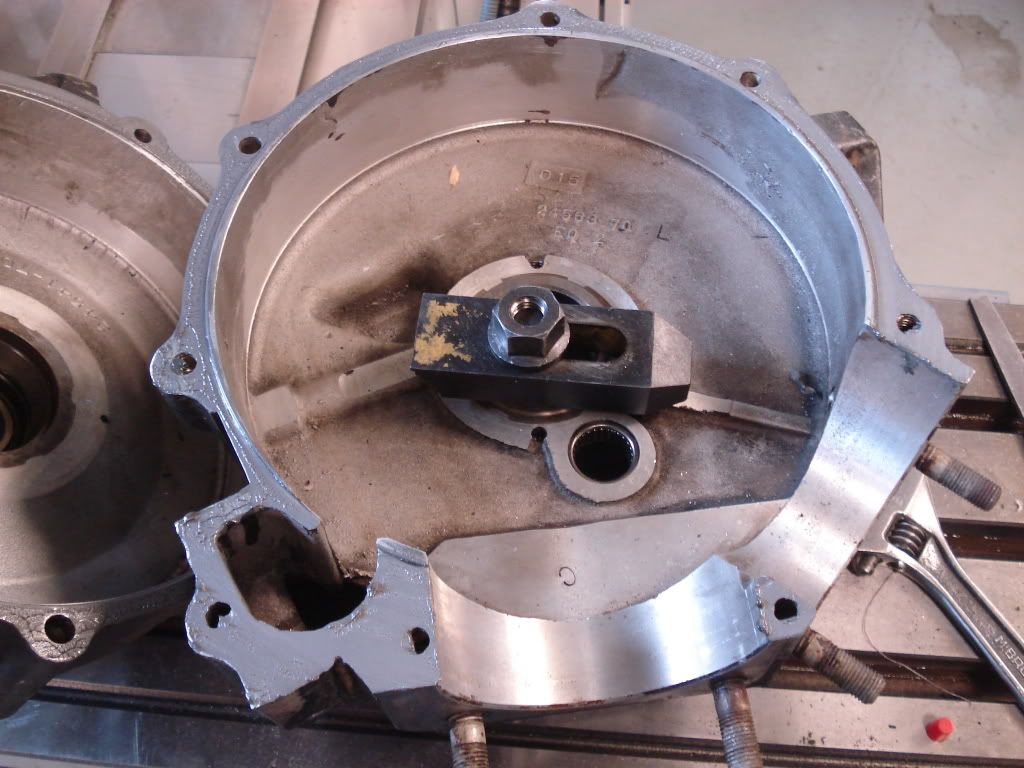 Then I set up and adustable angle plate on the mill and carefully dialed the head to make sure it was perpendicular to the table and then dialed the angle plate from the Y axis(from all the travel to the width of the plate) and the Z axis(from all the movement that is from up and down) and was ready to bring on, the now bolted together case ready to be machine.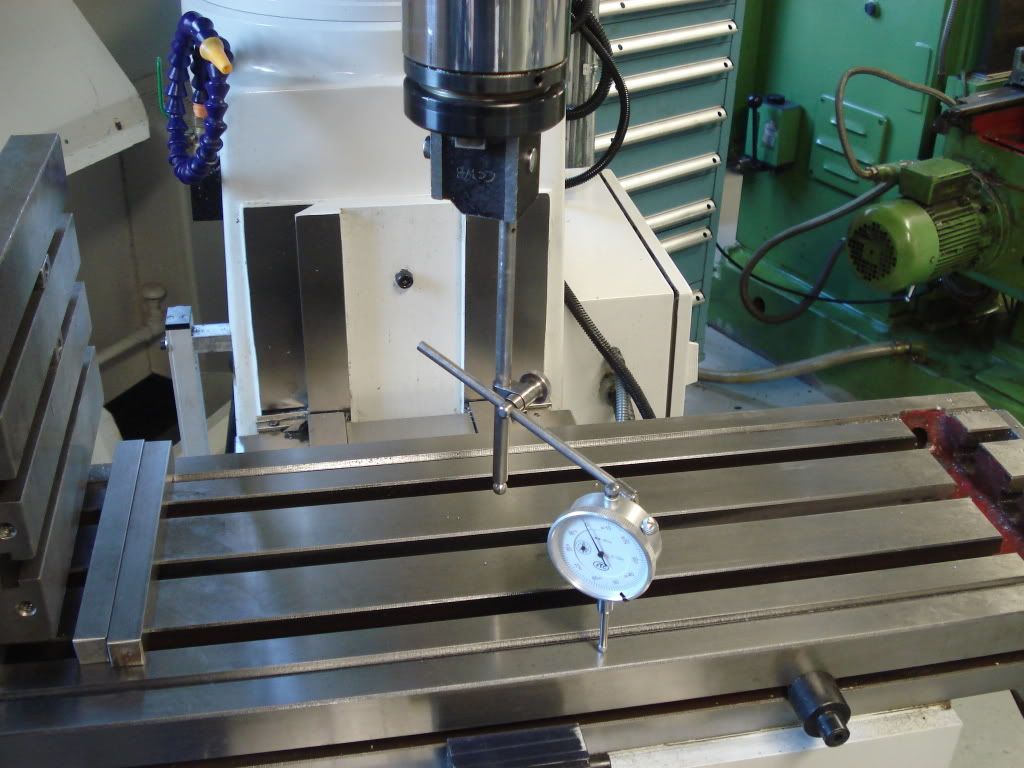 Now remember here you need to have your case perfectly dialed on both axis,(X and Y axis in this case)so I dialed everything very carefully,and when it was at .000 inch,( note the center threaded rods with the 2 parallels in the back against the angle plate),I also secured to big  C-clamp to make sure nothing could move and make a final check before start machining),if at that time I would have found slight difference on the top of the crankcase from side to side ,from the sprocket side to the pinion side I would have taken off all studs and then  machine the base surface to achieve a perfect parallelism to the centerline(,it happened to me in the past that surface was not machined properly from MoCo and engine had never worked good since I discovered that base surface was not parallel to the center line….and correct the problem thereafter with a now perfect running engine )
Then you need to center the boring head in the center of the hole,the best way to it ,with the use of a coaxial dial,those dial turn with the spindle as you hold the rod in one hand to keep it from turning and move x and y axis so youalways see the face of the dial,until the needle stand still at .000.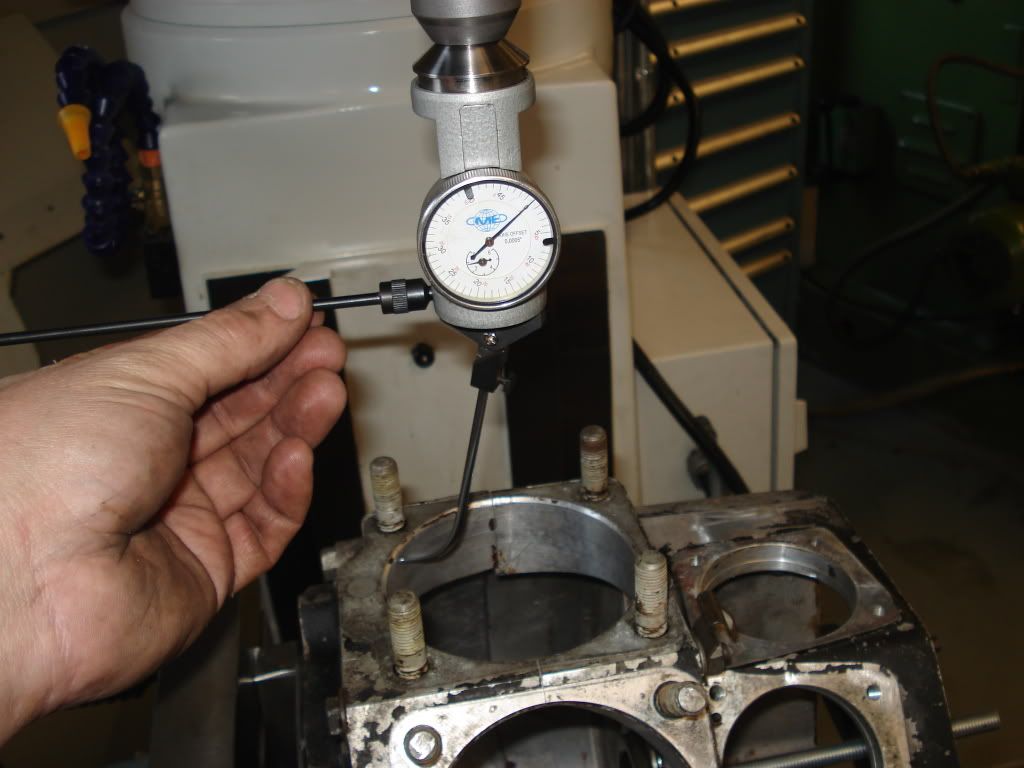 I had to weld a carbide cutter to my boring bar since the last students who used it probably abused the insert,after the tool grinding was complete,here is the start of the machining,I follow S&S procedure to take 3 cuts to final size ,couple of pictures so you could follow the first hole as a step by step with measuring to make sure you finish with the correct size,in this case 3.879 inch.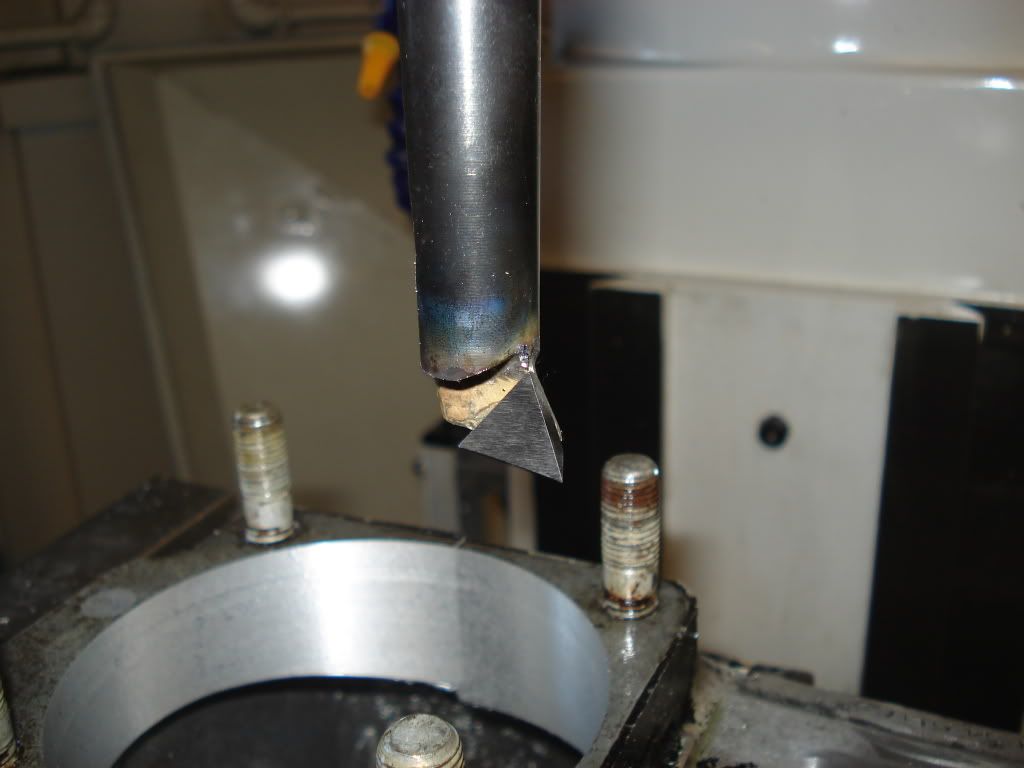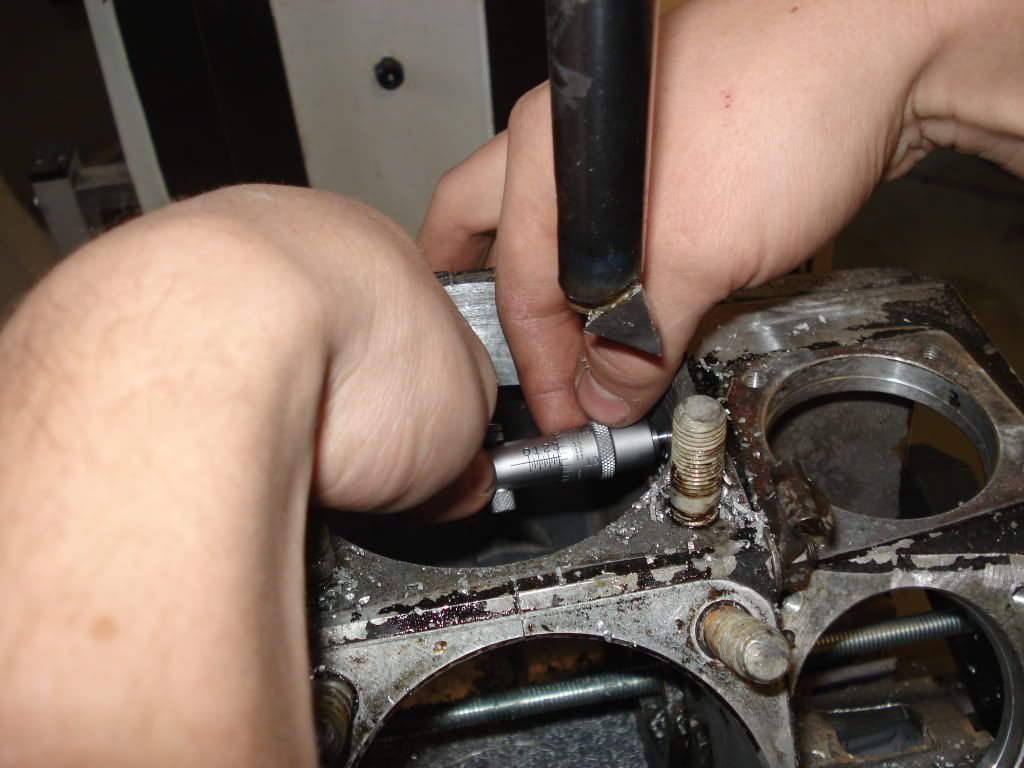 See the bolt that secure the case between cylinders have been machine sligtly on one side and it is normal (radius cut on the side of bolts).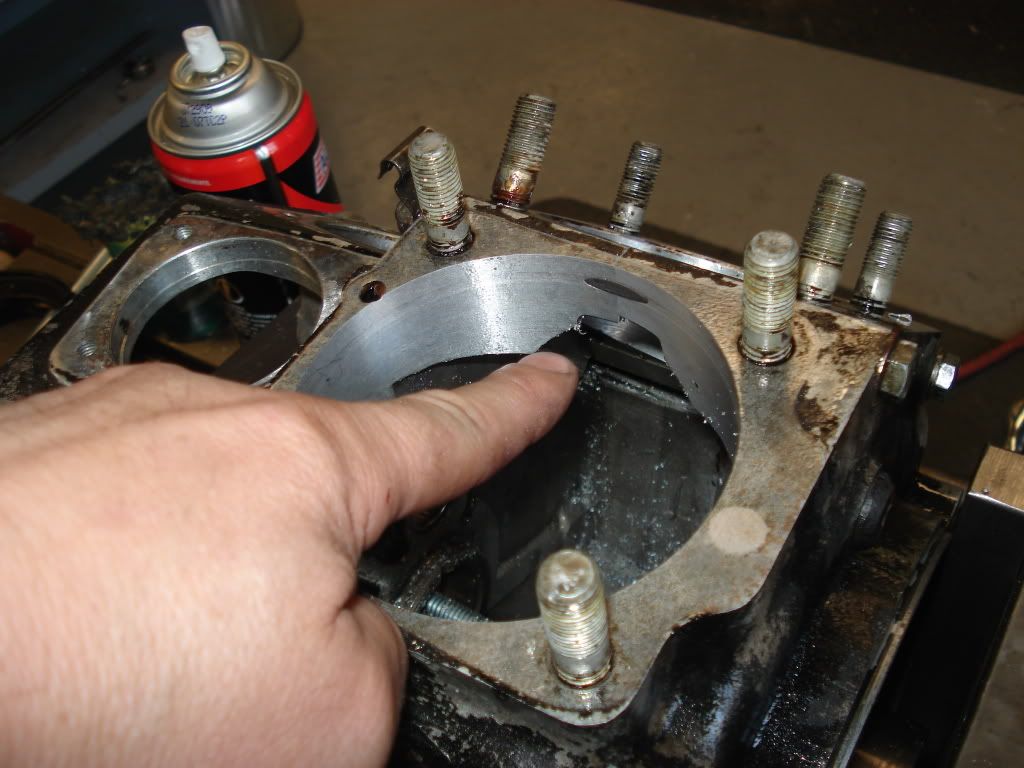 Before going to the second hole better doing a chamfer as the original spigot hole,so I weld a carbide tip to another boring bar with silver solder at a 45 degrees angle and took a cut,perfect.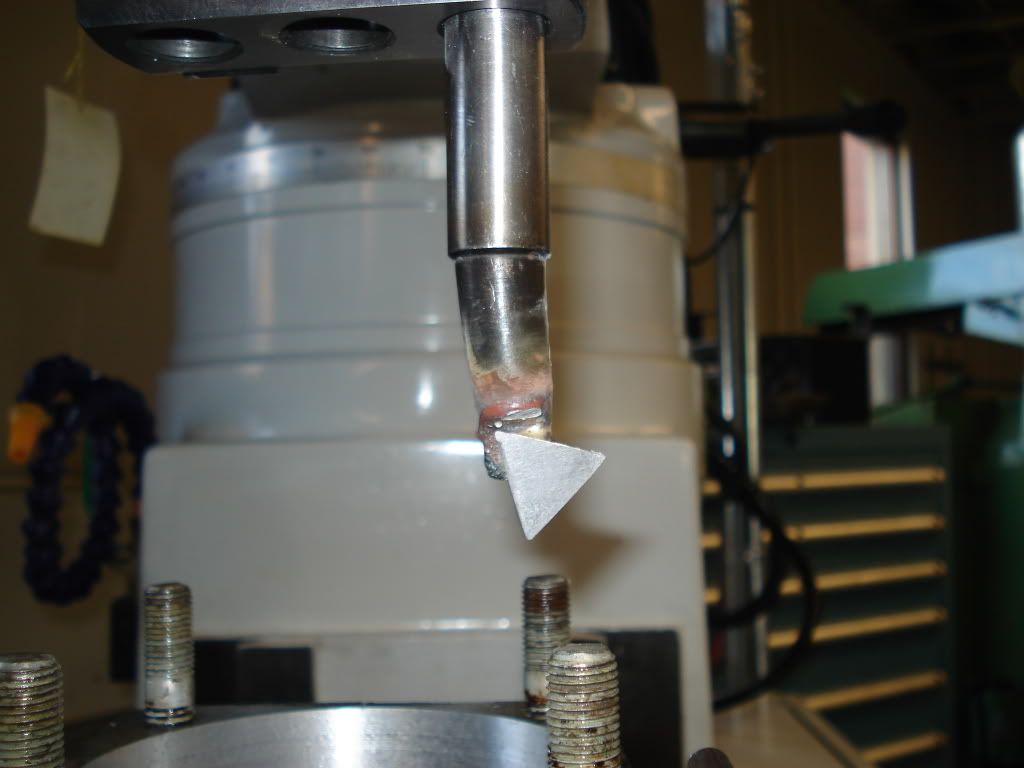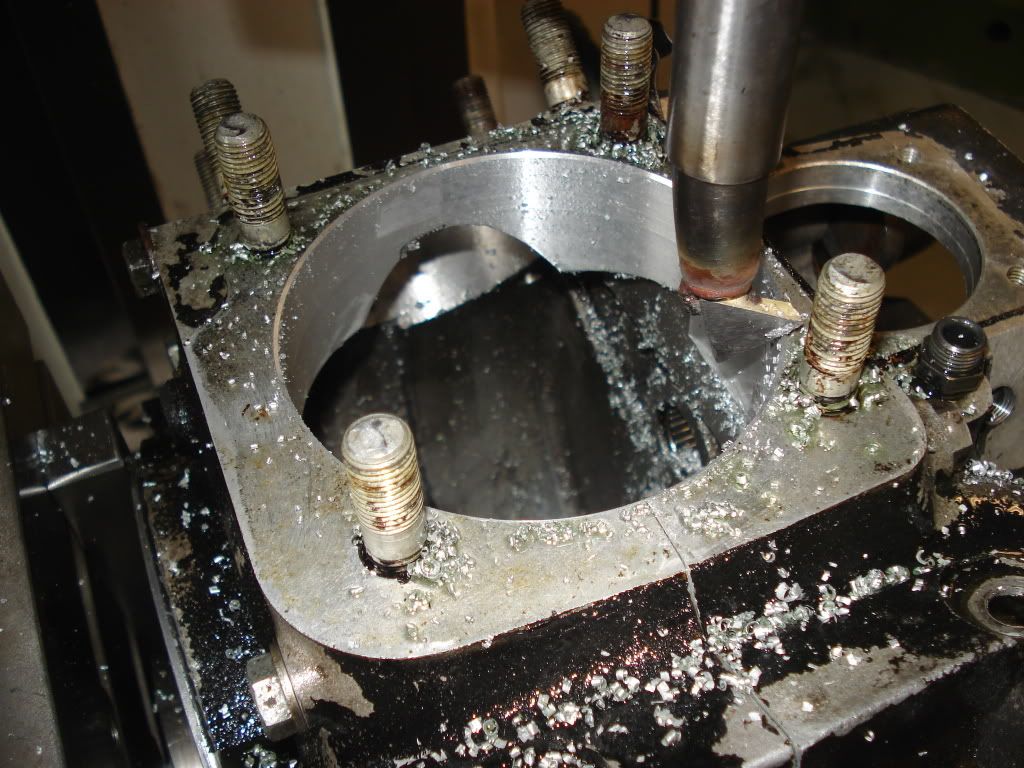 Then adjusting for the second spigot,same procedure as the first one,except now this is the rear cylinder spigot bolt that was machined (another radius cut on the side of  one bolt)so make sure when reassemble everything that you secure  the bolt at the same position it was machine at first.
Everything is done…at least what was asked at first time………
More work to be done for sure,here is some pictures of both races, pinion side and sprocket side,both show sign of rust,propably due to oil left in the engine for too long and an engine that had never been run for a long time…
No problem with the sprocket side ,just need to take out the old races and buy and install a new Timken kit,but the pinion side need to be lap,here is the tool and procedure to show you how to lap a pinion race to clean and fit oversize rollers,so I install those old Timken bearings into there respective races and installed the lapping guide and install the lapping head on my drive rod,measure approximatly the size of the race and then tried it,(lap is supposed to have a slight drag before using a lapping compound and oil ),then put some spot of lapping compound 220 grit for the first run then 320 to finish,equally space on the lapping head,couple of pictures…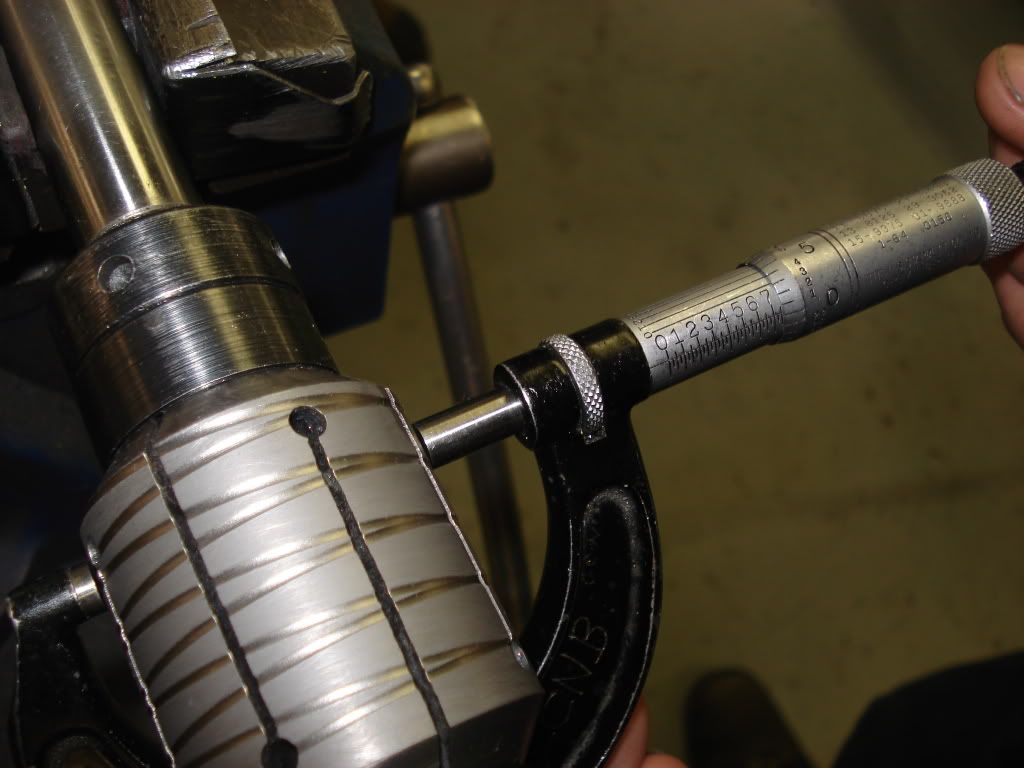 I used the dial bore guage and vernier micrometer method to decide what I need to order as oversized bearing,and my students took all the measuring,end up with .0006 inch oversize rollers at .2506 inch ,here is the calculation to end up with those rollers size.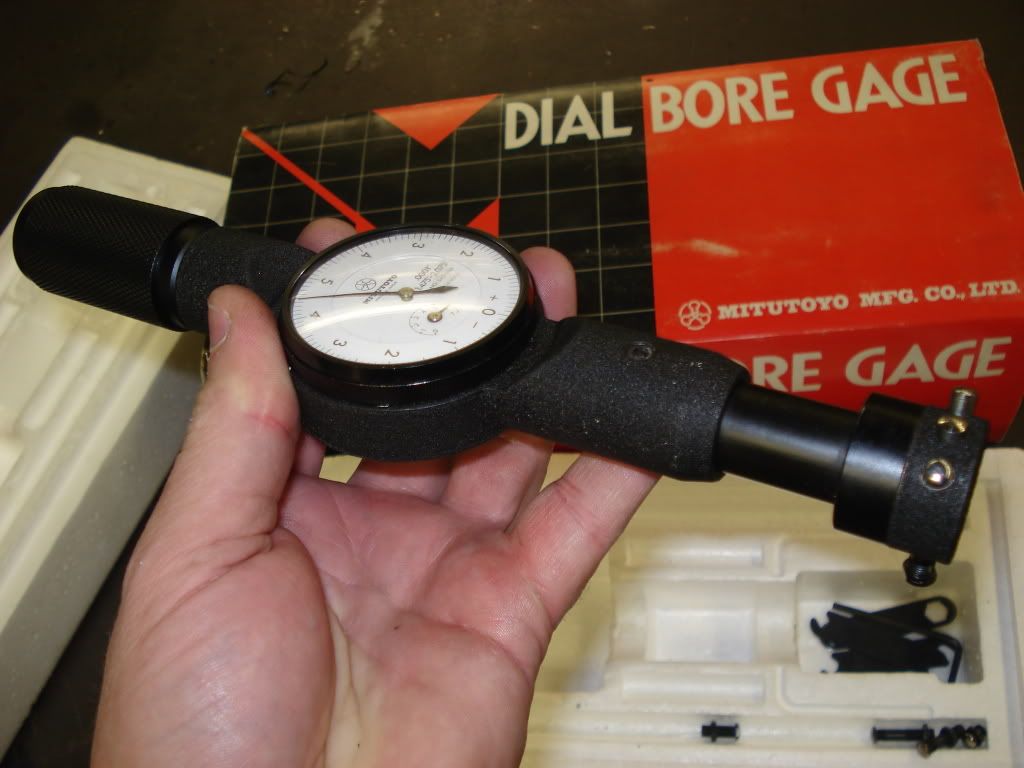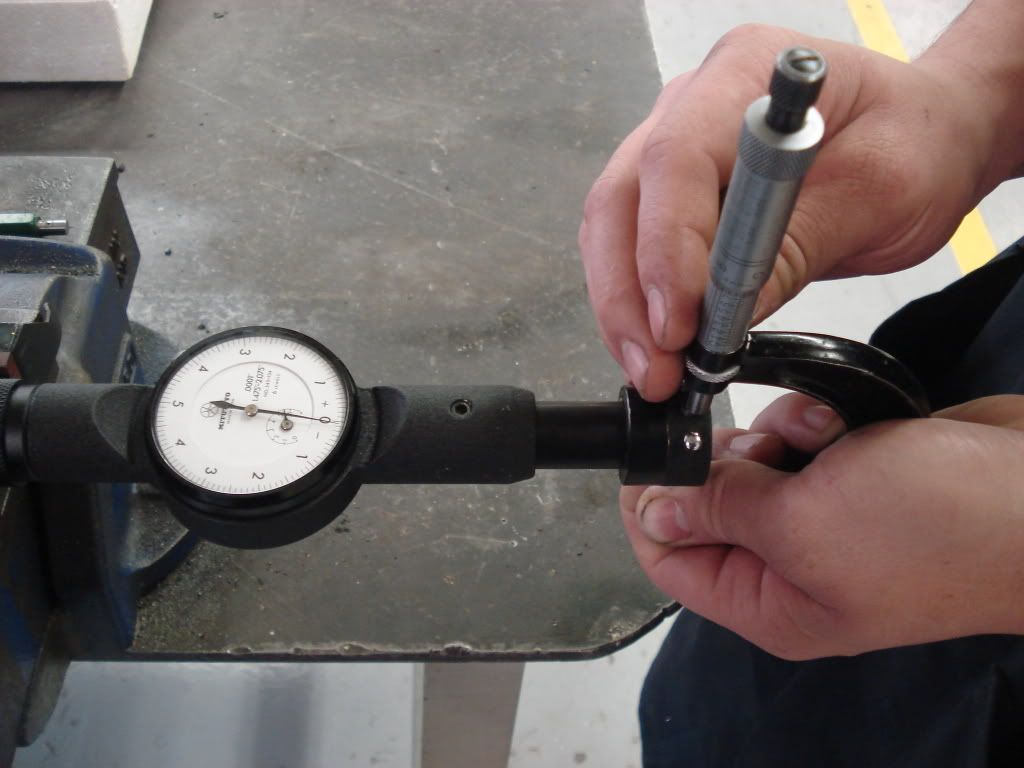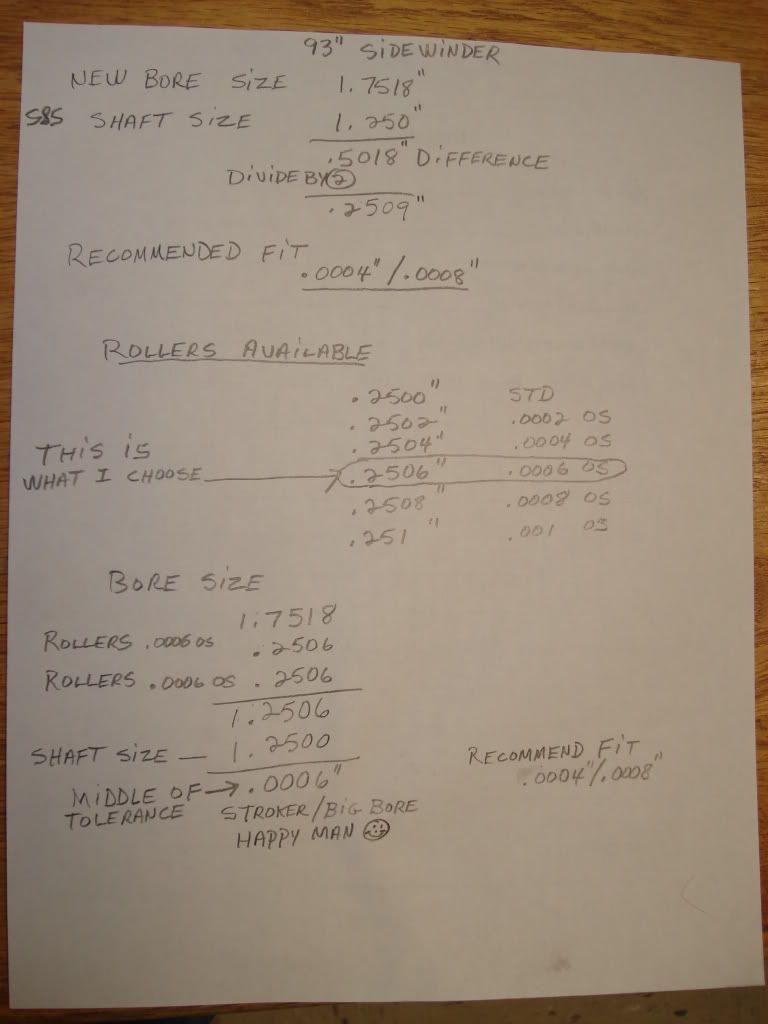 By the S&S sheets, the crankpin nut will rub inside the case so you need to clearance the case to at least 1/16 inch,so my friend in the fabrication department made me a special tool made of plastic from the waterjet machine,here is the tool with picture to show how it is working.
Something was rubbing and it was really the crankpin nut on the came side case,so more machining involved,I decide it was time to use the rotary table, again to show my students how you could create a perfect arc instead of the grinding method mentioned in the S&S sheets,my students make me a special aluminums rod to adapt my already threaded in adaptor in the rotary table,then secure everything and one of them  machined the radius wanted.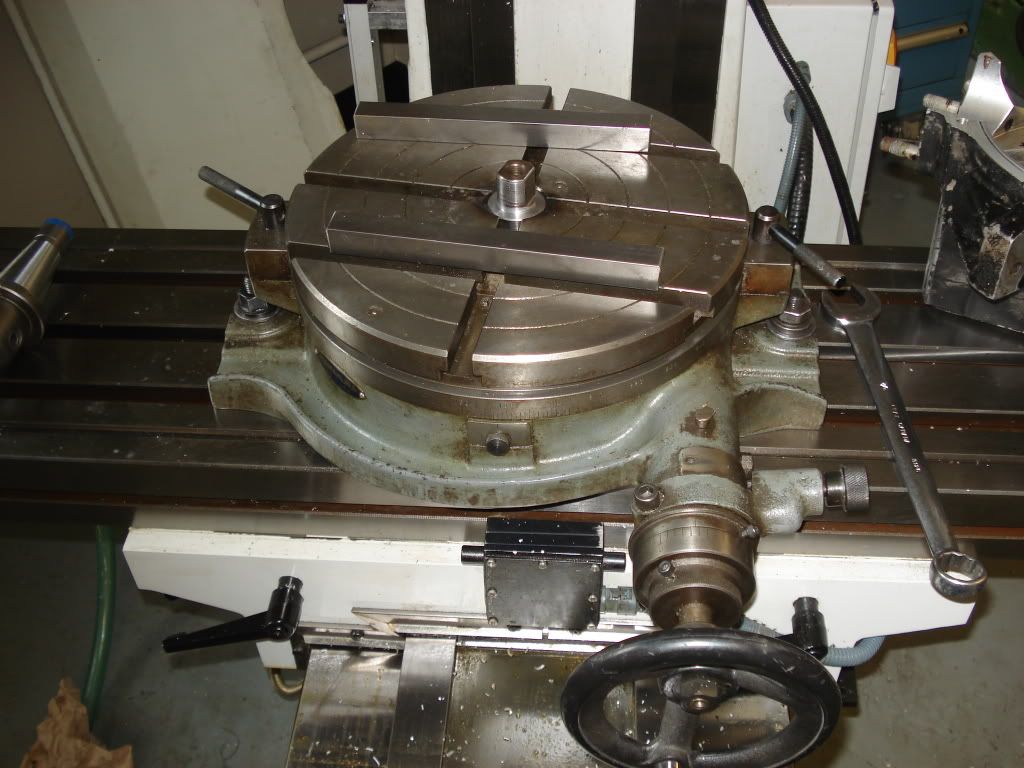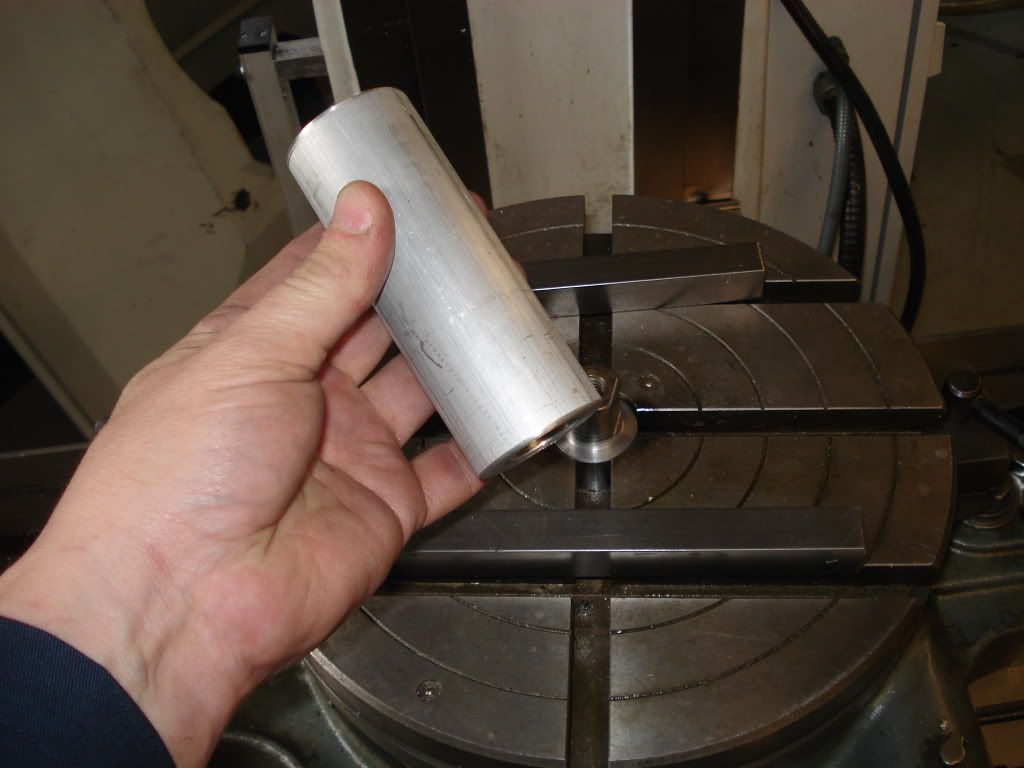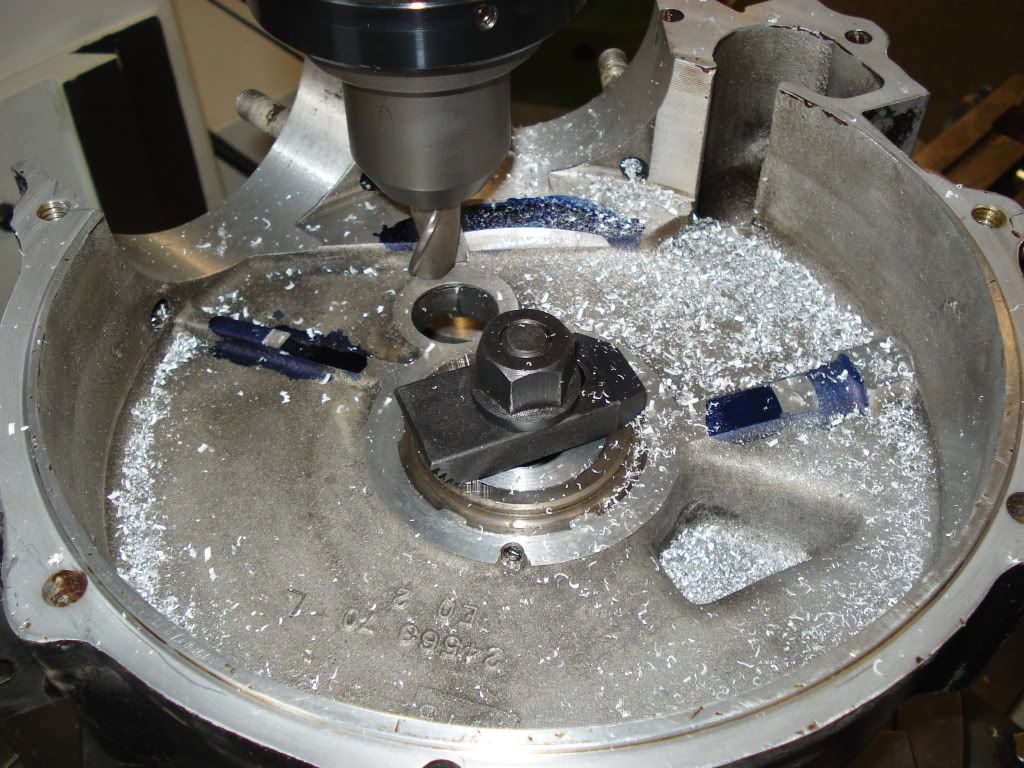 After all recess machine was done to clear the crankpin nut,then I have to assemble the pinion bearing,the old one on the new 4 ½ inch stroke S&S wheel,old rollers in the newly lapped hole with lots of oil  to make sure everything turn freely,one of my guys  then make me 2 nylon wrist pins and I assembled the 2 pistons with a  coat with grease on their skirt, without rings and circlips  and drop down the cylinders over and try to turn the flywheel slowly,now everything seem to be perfect,check clearance between flywheel and piston.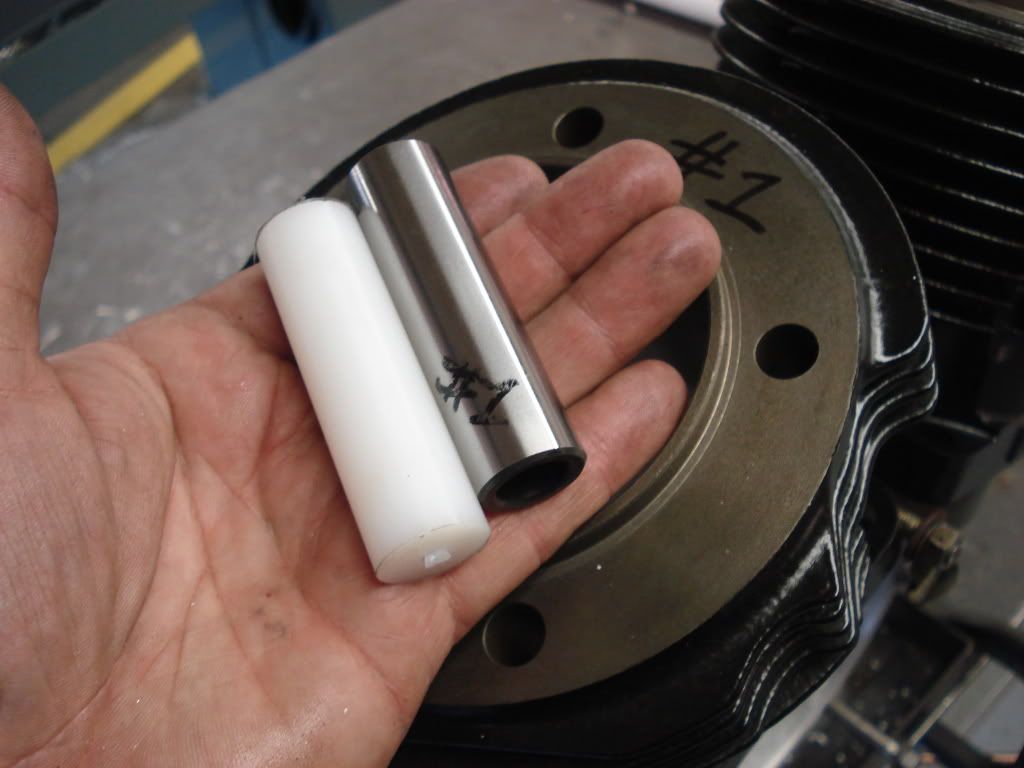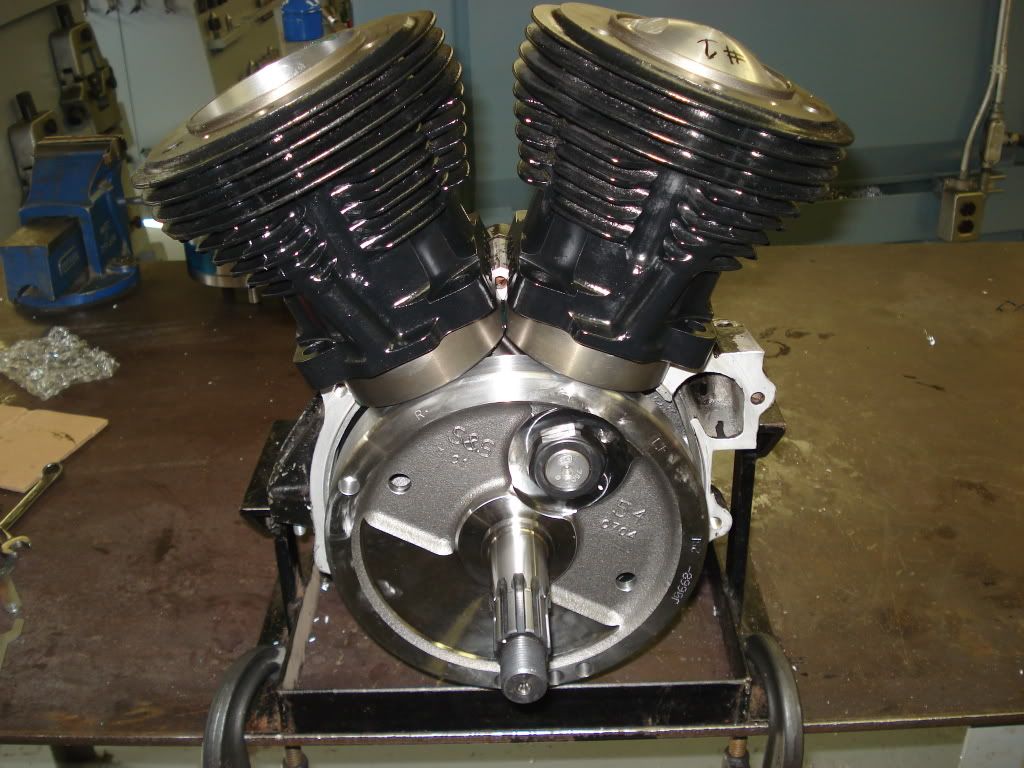 Check flywheel and oil scraper clearance.
Check connecting rod to rear case clearance and piston to flywheel clearance.
By the instruction sheets a couple more thing to be check,need to have new return holes made to drain the oil from top end on both cylinders,due to larger cylinder spigot,new drain hole have to drill into the crankcase from top to bottom(1/4 inch drill in size to between 5/16 and 3/8 inch deep,so I use the base gasket as a reference to position the hole and then mounted the right halve case on the mill and the modification continue…few pictures to show the procedure…
I forgot to try the cylinder,I figure it was easier to only use base gasket for my returm hole,first error,and it was something I already know,…..better be sure than surprise,I should have use the cylinder instead of the gasket,the 2 base gaskets are the same but one go side done,so return hole is not at the same place as the other, versus cylinders position…no big deal in this case but still not acceptable to me,when you try to go fast sometime ,that, is what happen…
Now time to drill side oil return hole for cylinders oiling,use long reach drill with cylinders on top of crankcase and spot drill both,then take off both cylinders and use center drill and then drill ¼ inchs hole to the 2 previously ¼ drill hole drill from  top of case,here is some pictures of both hole drill to drain and lubricate both pistons in there bore.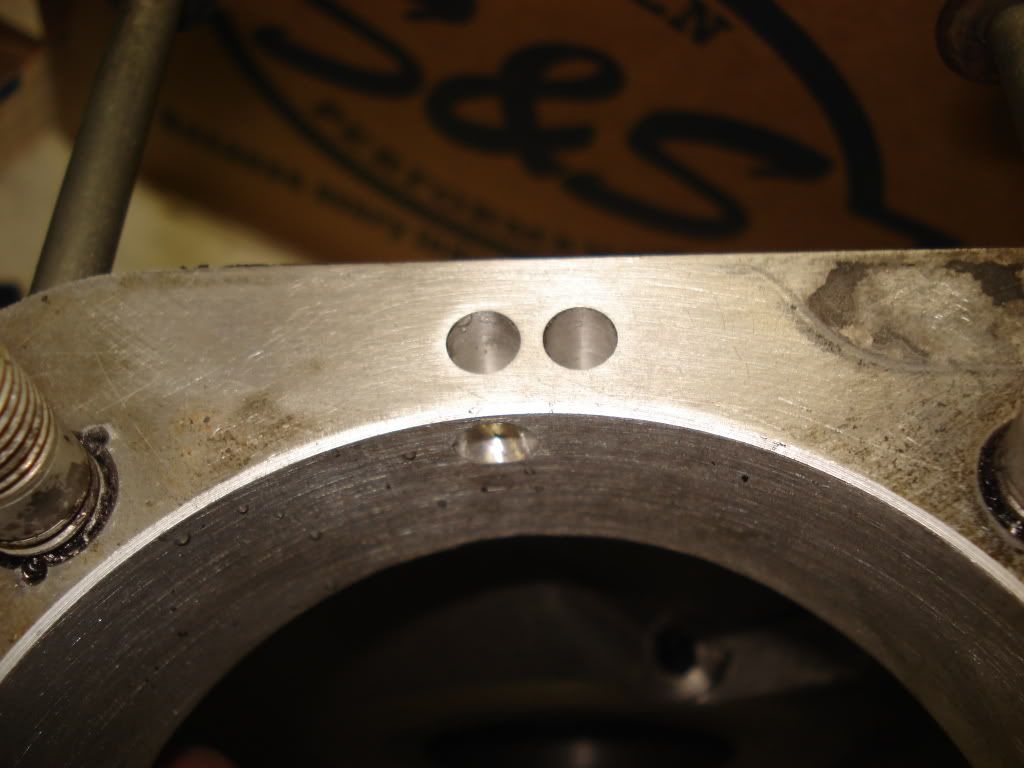 More machining involved ,since we check the 2 bushings in the cone cover for clearance between shaft and bore,and find out that pinion bushing was ok at .001 inch clearance but new camshaft from S&S  at 1.001 inch OD and bushing have .0035 clearance  at 1.0045 inch so we will make a new one,here is the procedure we did…this one was made completely by one of my students,with my supervision.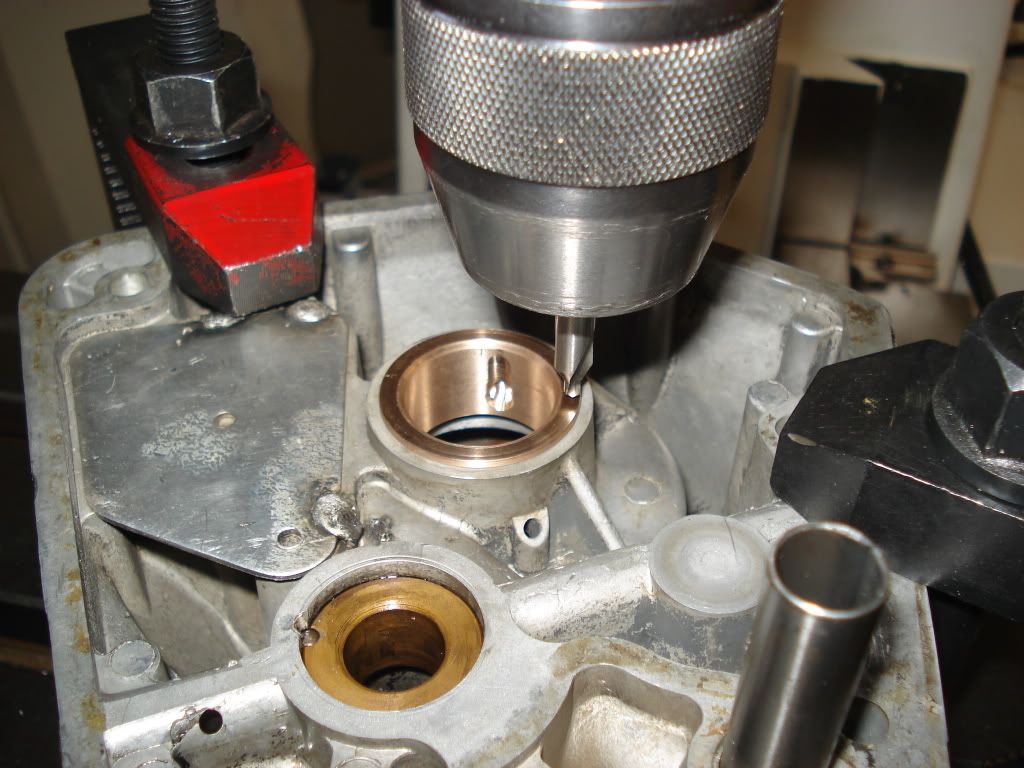 Then is was time to line reamed and hone to size still made from my guys…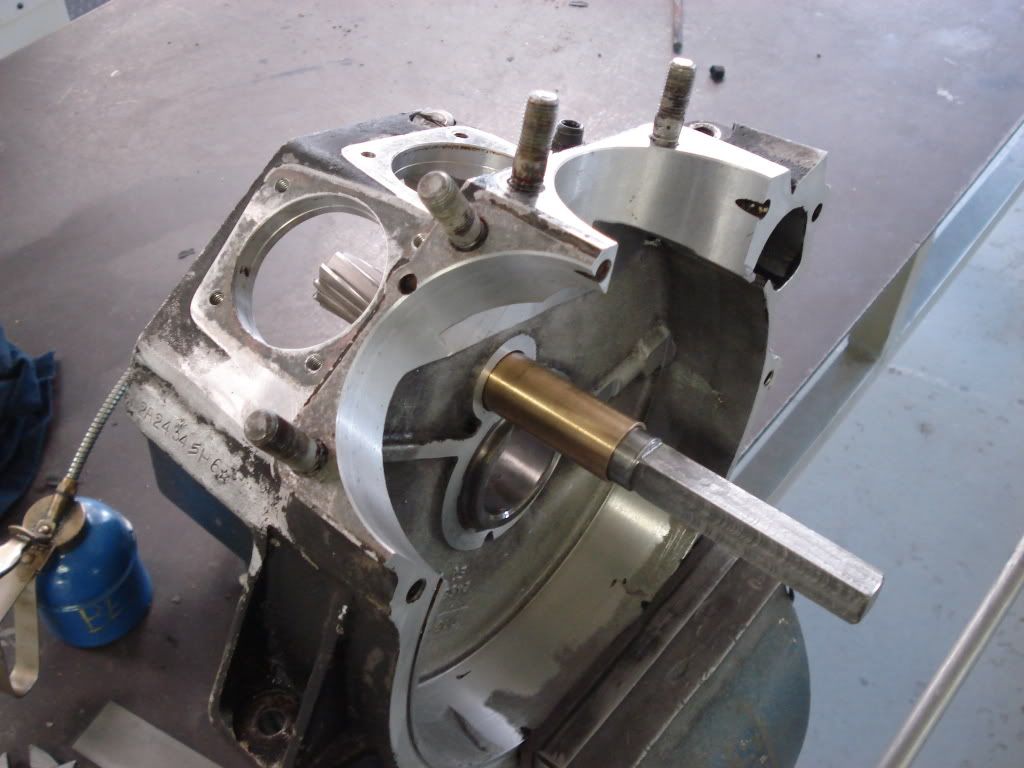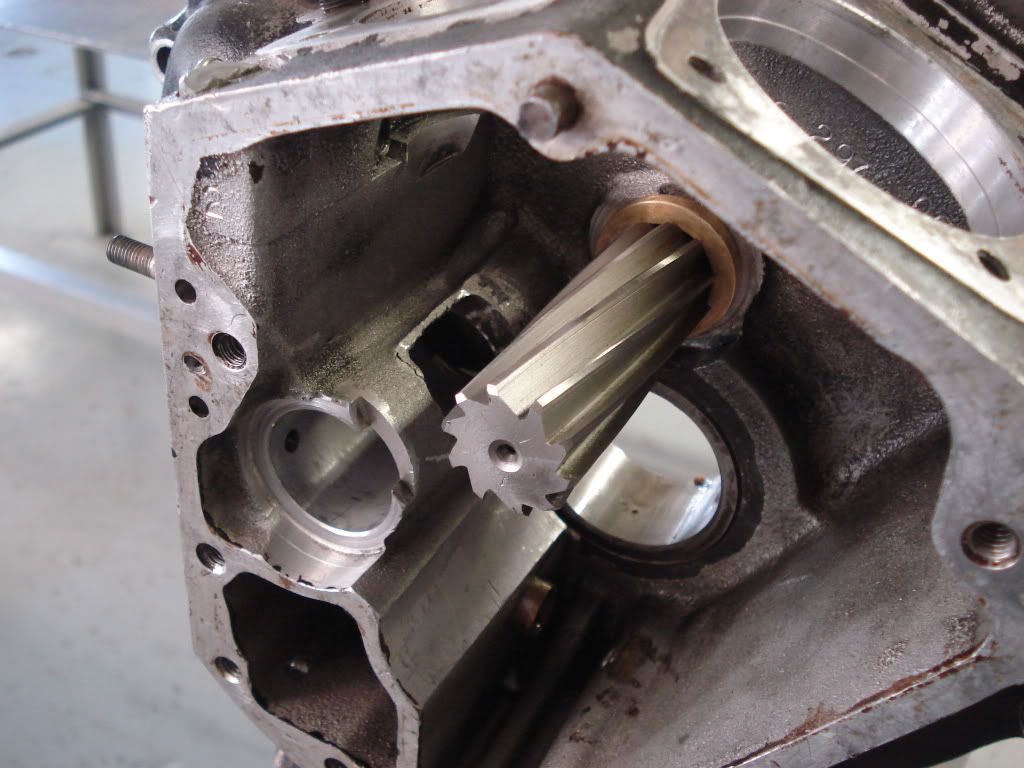 Bronze bushing have .007 inch of materail to ream,size before pressing .996 inch after pressing .994 inch and camshaft size is 1.001 so more than enough material to machine compare to other bushing sold on the market.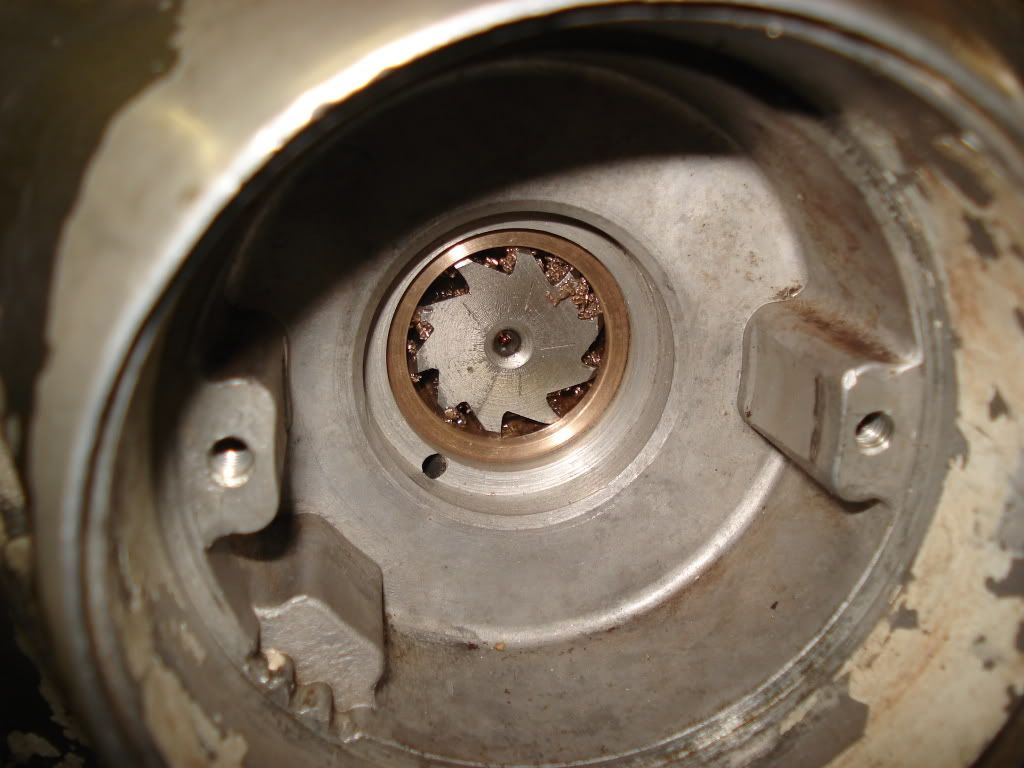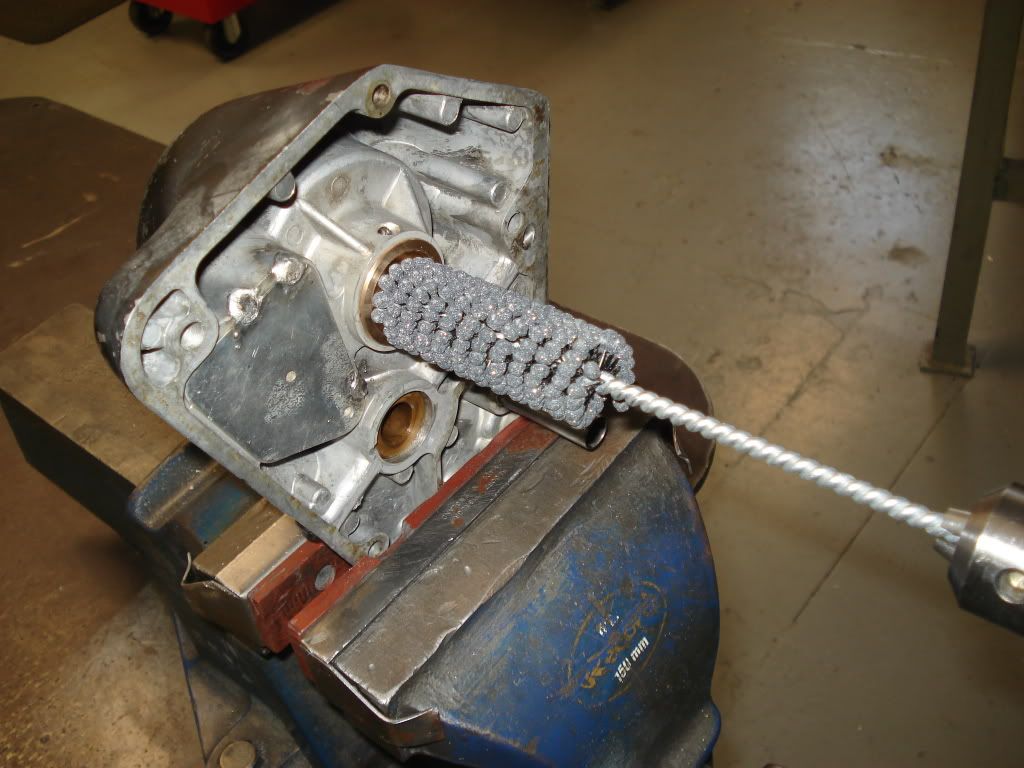 I need to check the complete flywheel assembly for runout and trueness,remember that those wheel are brand new and assemble at the factory but never assume that they are perfect,remember assuming…..so I aligned my 2 dead center  to make sure there was no side pressure from both center giving false reading,here some more pictures…
Both side are wihin specs from either S&S and Harley,the sprocket side at .0000 inch and the pinion side at .0005 inch so within the .001 inch recommendations form the manufacturers.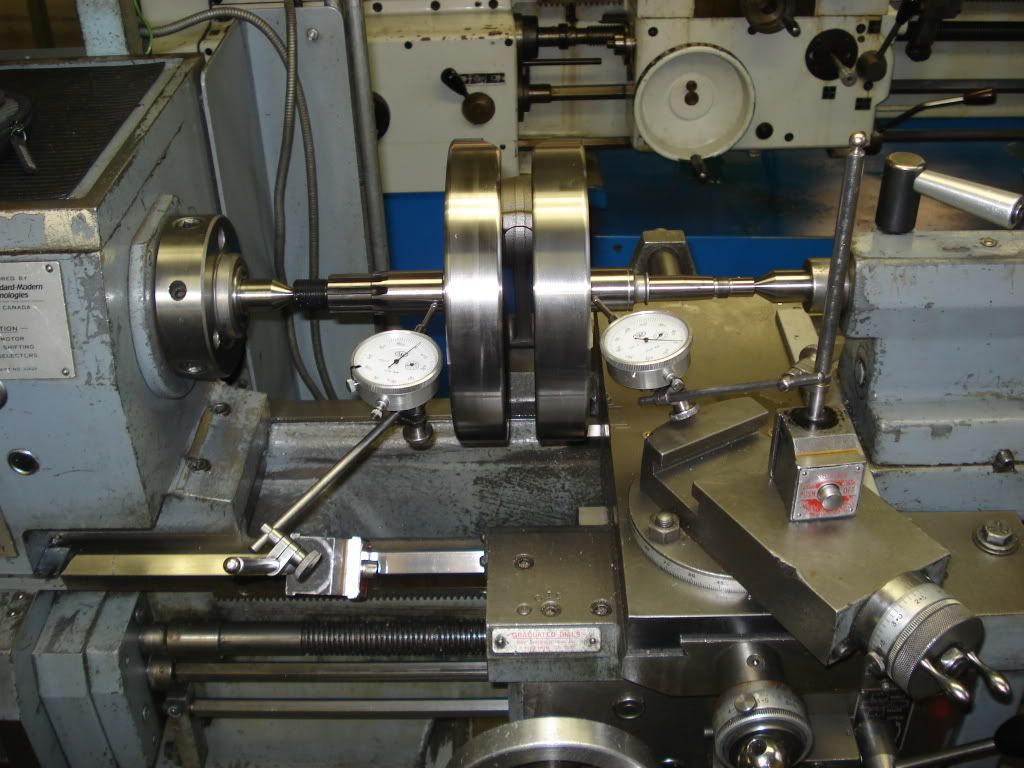 Everything else that need to be done would be done by the owner,including the soda blast,cleaning,painting,ect……my job was to enlarge the crankcase to accommodate bigger cylinders….plus a couple more,you know what, I have a feeling that I might end up with some more things to do before long,maybe it is just a feeling,hahaha.
Hope you have enjoy the process as my students did,I could tell by the pictures and video taken during all the process with their cellular phone,I think they enjoy it.
(Saddlebagrail)